Colette Maze is a remarkable woman. Not simply due to her longevity, which is impressive, but due to her enduring skill as a pianist and the fact that she is releasing her sixth album at the age of 109. Entitled 109 years of music, the album will include pieces by Schumann, Gershwin, Piazzolla, and her favourite composer, Debussy.
Born in June 1914, Collette Maze responded to the piano playing of the children in the flat above. Her mother was a violinist and her grandfather was also a musician, so her musicality was recognised. At the age of 15, she enrolled at the prestigious École Normale de Musique. Here is a mini documentary on this remarkable woman:
Josephmathmusic perceptively notes, "Very Impressive! Less than 10 years younger than the piece she plays". Debussy died in 1918, when Colette was four. Colette Maze commented to Pianote that Debussy lived near her family home. She speculates that as a child she may have even run into him in the neighbourhood. At the École Normale de Musique Claudette studied with some of the most influential music teachers of the time, notably Alfred Cortot, Georges Dandelot, Jeanne Blancard, & Nadia Boulanger.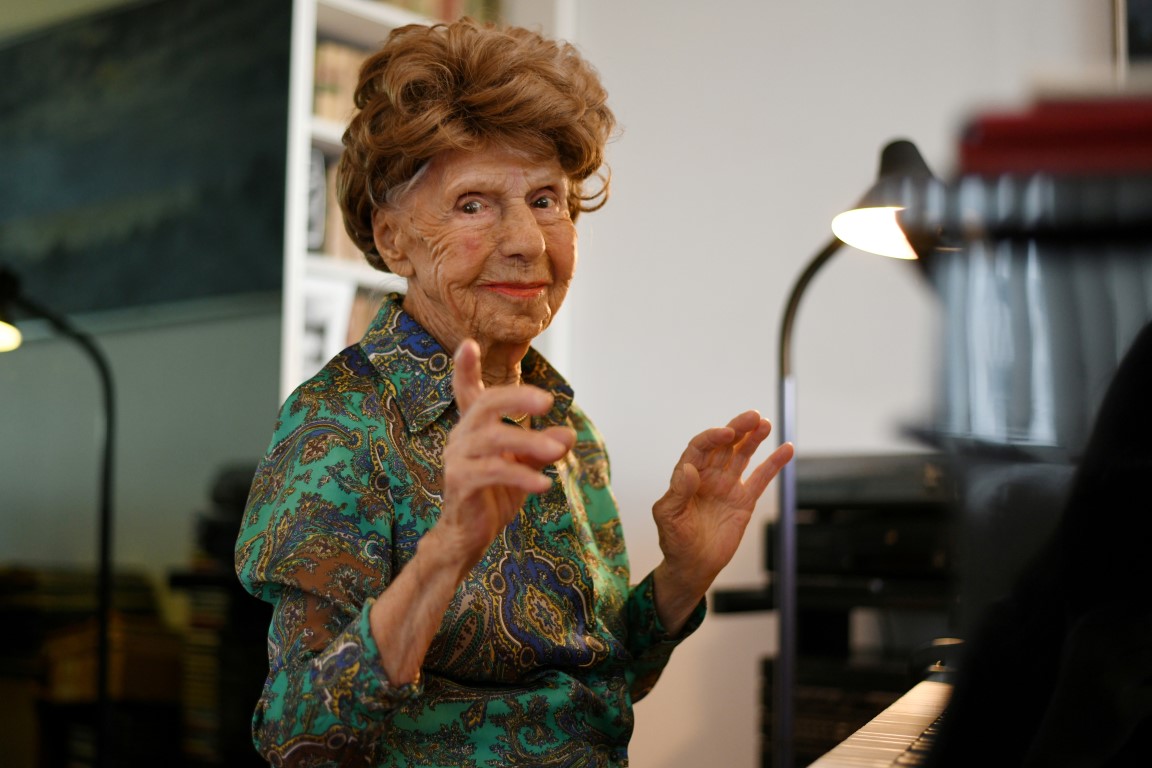 Unfortunately, Colette Maze's homelife was difficult. Even though their daughter studied music with the best teachers, her parents had no intention of allowing her to pursue music as a career. They were also so strict that Colette was not allowed to be in the family flat alone, which greatly restricted her practice time. Consequently she passed the second highest level – the teaching level, but was not able to proceed to the performance level. Watch and marvel as Colette plays Debussy at 108 years old:
Colette Maze first became a music teacher in the between-war period when it was not easy to make a living from the profession. The war only made it harder. After WW2 she had a son, Fabrice, who she raised as a single mother. Colette's parents refused to help support her and the child, so she struggled along as a single-mother piano teacher.
Interestingly, it was Fabrice, Colette's son, who persuaded her to start recording music. Fabrice not only had the desire to preserve his mother's legacy, but Colette was also likely the only living pianist to have studied Alfred Cortot's influential piano method under the man himself. So Colette Maze released her 1st album (Préludes 1er livre/Preludes 1st book) when she was 87. Her fifth album, Un Siècle avec Debussy/A century with Debussy, was released in 2021. As I've mentioned, she is in the process of releasing her 6th album at the age of 109.
Colette Maze still plays piano four to five hours every day. She has lived in the same apartment overlooking the the Seine (14th floor) since she was eighteen. She owns two pianos: a Steinway baby grand and a Pleyel (an 18th birthday gift, and the favoured piano brand of Frédèric Chopin).
In an interview with Pianote updated on 26 June 2023, Colete Maze said: "Music is my food, my breath, my reason for being. As soon as I get up, I start playing the piano to connect with the forces of life. It's a habit. It's always been that way. The blood circulates in our body and music circulates in my being. It's like essential nourishment." Fabrice quips that there are 3 things that, besides music, his mother can't live without: cheese, chocolate, and a good glass of wine.