The 12-year-old is also the youngest ever winner at the Menuhin Competition
Christian was performing at National Boys Choir of Australia's concert. Christian is 7 and a half, he has learned Violin for 2 and a half years. He is using 1/4 size violin.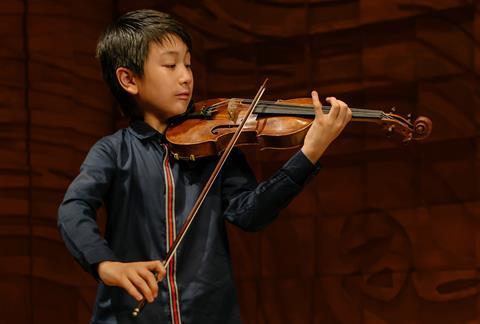 Christian Li Photo (c) Jess Brohier
Decca Classics has announced its youngest ever signing, to 12-year-old Australian-Chinese violinist Christian Li. The first release on his debut recording is 'La ronde des lutins' (Dance of the Goblins) by Antonio Bazzini, for violin and piano, and further tracks will be released throughout 2020.
Li came to international attention in 2018 when he became the youngest-ever winner at the Menuhin Competition, jointly winning (with Singaporean violinist Chloe Chua) the Junior first prize in Geneva when he was aged ten. Last year he made debuts with the Sydney Symphony Orchestra at the Sydney Opera House and the Melbourne Symphony Orchestra at the Sidney Myer Music Bowl. This year he is scheduled to perform at the 2020 Australian Festival of Chamber Music with British cellist Sheku Kanneh-Mason in August.
Speaking about his debut recording, Li said: 'I'm so excited to have signed to Decca Classics just after my 12th birthday, and to be releasing my very first recording! I love playing the violin, and really hope you enjoy listening.'
Helen Lewis, executive producer at Decca Classics, said: 'Christian's musicianship and technical mastery of his instrument at such a young age is truly astounding, and all of us at Decca look forward to supporting him on the exciting journey ahead.'
Li was born in Melbourne in 2007 and began learning violin at the age of five. In 2014 he won first prize in the Golden Beijing violin competition in China, and in 2017 he received first prize in the young artist violin category of the Semper Music International Competition in Italy. He went on to give solo and chamber music performances as part of the Semper Music International Festival and Summer Academy, and was also selected to perform at Carnegie Hall Isaac Stern Auditorium as part of the American Protégé Showcase 10-year Anniversary concert.
In 2019 he performed with the Australian Brandenburg Orchestra at the Sydney City Recital Hall and the Melbourne Recital Centre; he also gave UK debut recitals at the Cheltenham, Harrogate and Gower International Festivals and performed in Tel Aviv and Norway.
Li studies with Dr Robin Wilson, Head of Violin at the Australian National Academy of Music in Melbourne and plays a 3/4 size violin made by Dom Nicolo Amati in 1733, on loan from Reuning & Son Violins Boston, and a rare 19th century bow made by Pierre Simon, on loan from Florian Leonard Fine Violins, London.