The legendary song "Bohemian Rhapsody" by the iconic band Queen is a challenging anthem that sets high expectations whenever performed.
In the bustling London St. Pancras International Station, a young boy was about to take on this monumental task on a public piano when two men interrupted him.
They requested he play the song he was planning to perform, "Bohemian Rhapsody."
With a shy smile, the boy agreed and began to play, unbeknownst to the crowd that they were about to witness something extraordinary.
The brave young pianist daring to perform in the busy station was none other than Cole Lam, a 12-year-old prodigy known for playing piano masterpieces and popular contemporary songs in crowded places.
But his talent doesn't stop at the piano.
He also plays the clarinet and guitar, and is a singer, songwriter, and musical composer.
At just 12 years old, his portfolio is already impressively diverse.
As Cole sat at the piano, he was determined to play one of Queen's most popular and challenging hits.
The crowd around him paused, anticipating his performance and hoping that this young musician could do justice to the legendary song.
Two men approached him, seemingly in doubt that such a young musician could tackle such a complex piece.
Little did they know, they were about to witness the extraordinary talent of this young musician.
The moment Cole's fingers touched the piano keys, everything else seemed to fade away.
It was just him, the piano, and the music.
He played as if there were no onlookers, fully immersed in his performance.
His fingers danced over the keys, hitting every note of the song as if his fingers and the piano keys were one.
His body swayed with the rhythm, showing his deep connection with his performance.
He played from the heart, and everyone who watched this amazing boy play Queen's music could feel his performance.
Cole performed with soul, and his every touch on the keys breathed life into the song.
Despite his young age, his musical genius could rival that of seasoned performers.
As he played, the two men who had initially doubted his abilities were now watching him with awe and admiration.
Cole continued to play, captivating the hearts of everyone in the busy London station.
Anyone familiar with "Bohemian Rhapsody" knows it's a technically challenging song requiring a master pianist to perform.
Despite his young age, Cole demonstrated his exceptional talent, leaving no doubt in his audience's mind that he was a remarkable musician.
Interestingly, the piano he played that day was donated by Elton John, the world-renowned pianist and singer.
Like Elton John, Cole is a promising musician with tremendous potential to make it big in the music industry.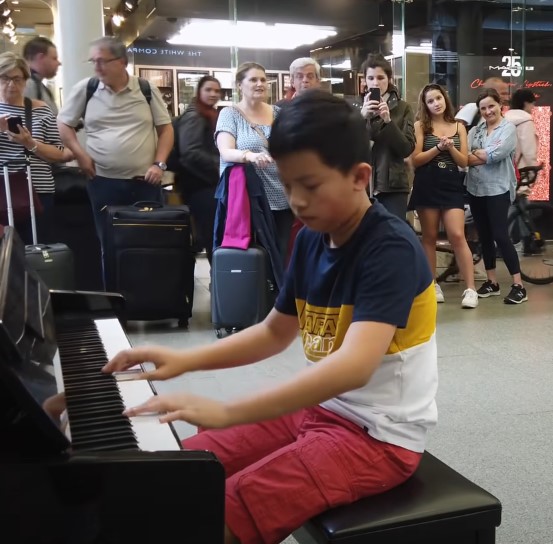 As the song neared its end, everyone waited to see how Cole would conclude his stunning performance.
True to expectations, Cole delivered a beautiful finale to his impromptu performance, leaving everyone in awe.
Cole may be young, but his passion for music is undeniable.
His love for music inspires young people everywhere, and his accomplishments at such a young age are truly remarkable.
We can easily envision this young man as a future world-class pianist, and we are excited to see his star continue to rise.
Watch Cole's performance at the London station in the video below!
Please SHARE this with your friends and family.