Walter Maynard Ferguson (May 4, 1928 – August 23, 2006) was a Canadian jazz trumpeter and bandleader. He was a world-famous big-band leader, one of the world's greatest brass players, composer, arranger, committed music instructor, and instrument designer.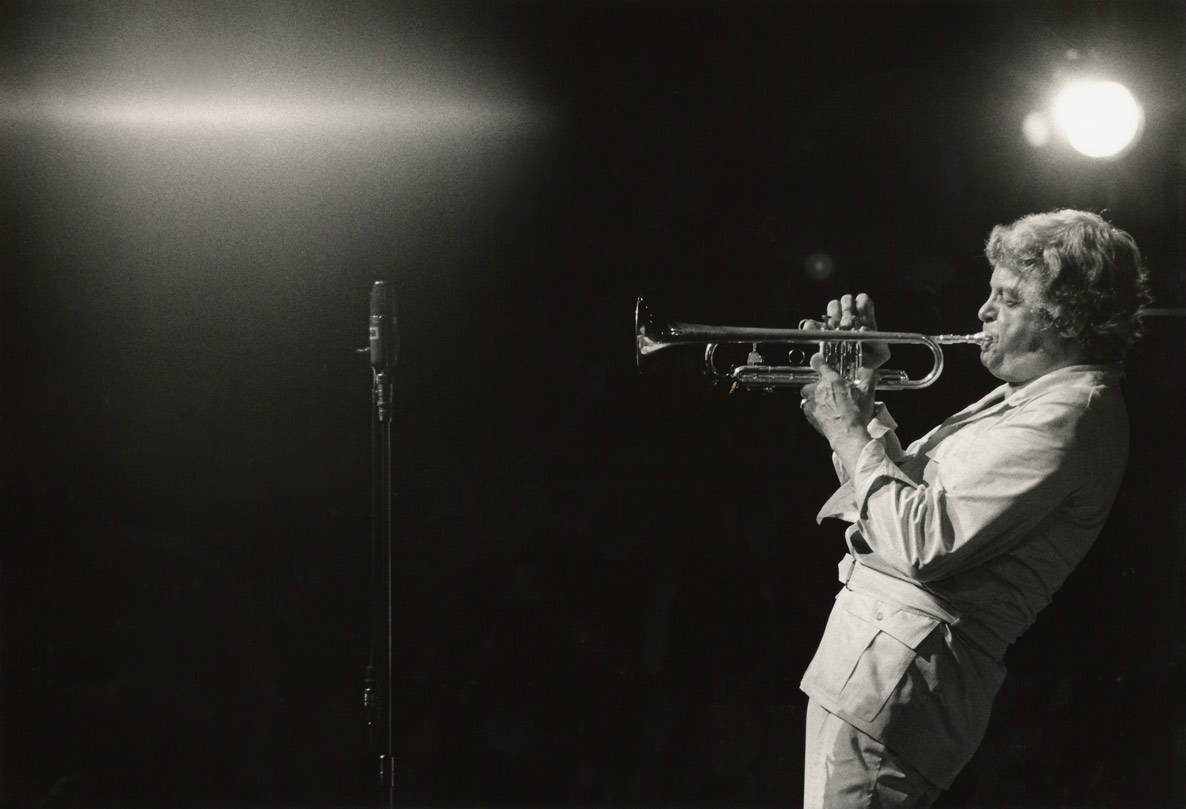 He, being of the most influential jazz musicians, was known for his ability to play accurately in a relatively high register and propelled a musical career that spanned more than 60 years.
He was a three-time Grammy nominee with several other honors to his name.
His first taste of celebrity came during a three-year tour with the Stan Kenton Orchestra, where his virtuosity and incredible higher register became legendary.
Maynard later spent three years recording numerous soundtracks for Paramount Pictures. He formed the Birdland Dream Band in 1956 and kept it busy for the following ten years with a demanding touring and recording schedule.
1. What other instruments did Maynard Ferguson play?
Maynard Ferguson played Valve trombone, bass trombone, baritone horn, french horn, and soprano saxophone.
2. What was Maynard Ferguson known for?
He was known for his towering high notes and rendition of "Gonna Fly Now," a popular version of the "Rocky" movie.
3. What was Maynard Ferguson's highest note?
An octave above the High C was Maynard's highest note.
4. Who taught Maynard Ferguson?
His mother, a former concert violinist, taught him to play early.
10. A Prodigious Young Ferguson
Ferguson was born in Verdun, Quebec. He began playing piano and violin at the age of four because of his mother, a former concert violinist who trained him at a young age.
At nine, he joined the French Conservatory of Music to get official training and shifted to the trumpet.
Ferguson was frequently heard soloing on Canadian Broadcasting Company radio as a young prodigy. On one occasion, he performed a Serenade for Trumpet in Jazz written for him by Morris Davis.
Ferguson earned a scholarship at the French Conservatory of Music, where he studied with Bernard Baker from 1943 to 1948.
After leaving high school, he joined a band and his brother Percy and a classmate, the legendary pianist Oscar Peterson, and played with several local Montreal ensembles.
They were performing as an opening act for touring bands from Canada and the United States. During this time, he attracted the attention of American bandleaders and began receiving invitations to perform in the United States.
9. In the United States, Ferguson had attracted attention
Ferguson traveled to the United States in 1948 and worked with Boyd Raeburn, Jimmy Dorsey, and Charlie Barnet. By 1950, Ferguson was playing trumpet in Stan Kenton's big band.
Ferguson first gained national prominence in 1950, when he performed a four-minute televised cavalcade backed by Stan Kenton's big band.
During his time with Kenton, Ferguson established a reputation based on his technique and ability to play in the trumpet's higher register.
Following his time with Kenton, Ferguson worked for three years as a studio trumpeter for Paramount Pictures, where he recorded film soundtracks.
He was on 46 soundtracks. Ferguson quit Paramount in 1956, dissatisfied with his absence of live-performing chances.
8. The All-Star Big Band
In 1956, Ferguson was chosen to lead the Birdland Dream Band, a 14-piece big band assembled by Morris Levy as an "All-star" lineup to perform at Levy's Birdland jazz club in New York City.
This band served as the backbone for Ferguson's touring band for the following nine years.
The bar regularly performed Ferguson's work for Roulette, but the Birdland Dream Band was a short-lived name, with only two records produced.
Slide Hampton, Don Ellis, Don Sebesky, Willie Maiden, John Bunch, Joe Zawinul, Joe Farrell, Jaki Byard, Lanny Morgan, Rufus Jones, Bill Berry, and Don Menza were among the many musicians who performed at Birdland.
Bob Brookmeyer, Jimmy Giuffre, Bill Holman, and Marty Paich were the arrangers.
Ferguson's band performed less frequently as big bands' appeal and commercial viability fell in the 1960s.
Ferguson began to feel musically constrained, and he saw a resistance to change among American jazz audiences moving to England officially disbanding his big band in 1967.
He was re-energized by the European music scene and heavily influenced by Indian music. Ferguson signed with CBS London, and his recordings of contemporary music arranged with 'rock' rhythms and thrilling brass propelled him to stardom.
7. The European music scene revitalized Ferguson
Maynard was offered a job leading an all-star Anglo-American jazz orchestra on a tour of England in 1967. He agreed and brought his family with him and frequently traveled to India and Europe.
There were frequent travels to India, and the English music community was ecstatic that Maynard Ferguson lived there.
The European music environment re-energized him, and Indian music, with its comprehensive time signatures, distinctive instruments, and a spiritual path of oneness, influenced him.
He formed a sixteen- to an eighteen-piece large band of British musicians who played jazz-rock. The band's repertoire featured original compositions and pop and rock standards adapted into a big band arrangement with electronic enhancement.
The band gained notoriety for its rendition of Jim Webb's "MacArthur Park and "Hey Jude" by Beatles.
6. Returning to the United States with the rising popularity
Ferguson's new band debuted in North America in 1971. Ferguson came to New York in 1973 with a revitalized career and progressively replaced his sidemen with American performers, decreasing the band size to 12.
The ensemble includes four trumpets, two trombones, three saxophones, and three rhythms plus Maynard.
Ferguson started working with Bob James in 1975 on a succession of commercially successful recordings that featured large groups of session musicians, including strings, vocalists, and guest soloists.
Rising popularity resulted in adding a guitarist and an additional percussionist to his band's lineup.
Ferguson performed a solo trumpet piece during the Summer Olympics closing ceremonies in Montreal in mid-1976, symbolizing "blowing out the flame."
Ferguson released three large band albums on independent labels before creating High Voltage, a fusion septet, in 1986.
5. Big Bop Nouveau continues to amaze audiences
Maynard Ferguson returned to a large band format and more mainstream Jazz for his 60th birthday in 1988.
Band format resulted in the establishment of Big Bop Nouveau, a nine-piece band consisting of two trumpets, one trombone, three reeds, and a three-piece rhythm section that constituted his regular touring outfit for the rest of his career.
The band's repertoire comprised fresh jazz compositions and modern renditions of jazz standards and pieces from his 1970s book and even modified charts from the Birdland Dream Band era; audiences well-received this style.
Big Bop Nouveau traveled extensively worldwide; in 2005, it embarked on an eight-month tour, performing an average of 200 gigs per year.
He remained an entertaining performer for the rest of his life, traveling an average of nine months a year with Big Bop Nouveau.
4. Awards and Homage to Ferguson
Ferguson won the Down Beat Readers' Poll for the most excellent trumpeter in 1950, 1951, and 1952.
Maynard Ferguson performs a particular solo trumpet composition as part of the closing ceremonies of the XXI Olympiad in Montreal, Canada, in 1976.
In 1977, he won first place in Billboard magazine's pop instrumental category. Three Grammy Award nominations, including one in 1977 for the theme of the picture Rocky, "Gonna Fly Now," from the album Conquistador.
He was also elected into the Down Beat Jazz Hall of Fame in 1992.
Rowan University established the 'Maynard Ferguson Institute of Jazz Studies' in 2000; Rowan awarded Ferguson his only Honorary Doctorate.
The Rowan Jazz Program is supported by the Institute, directed by Ferguson's friend Denis Diblasio.
In 2003, Ferguson was made a Member of the Order of Canada. Soon after his passing, Maynard Ferguson band alumni reformed for a tribute concert led by trumpeters Wayne Bergeron, Patrick Hession, Walter White, and Eric Miyashiro.
3. Maynard Ferguson's Personal Life
Kay Brown, a singer, was his first wife. His marriage to Flo Ferguson lasted from 1956 till her death on February 27, 2005. Ferguson had three children, Corby, Lisa, Wilder, and a stepdaughter, Kim, from Flo's marriage to Jim Hamza.
Kim Ferguson is married to Jim Exon, Maynard's former manager. Wilder Ferguson is married to Christian Jacob, a jazz pianist, film composer, and former Big Bop Nouveau member. Lisa Ferguson is a Los Angeles-based writer and filmmaker.
Ferguson moved to Ojai, California, in 1973 and resided there until the end of his life. Ferguson had two grandchildren, Erica and Sandra, at his death.
2. One of the Jazz's most versatile Trumpeter
Ferguson plays trombone, saxophone, clarinet, violin, piano, and trumpet. He could play higher and more accurately than any other trumpeter in jazz history when he debuted with Stan Kenton's Orchestra in 1950.
He managed to keep most of that range throughout his career and has been one of Jazz's most prominent musicians since the 1970s. Ferguson ignited the jazz world with his artistic Birdland Dream band.
After considerable expansion and experimenting, he returned to a famous, preeminent big-band leader four decades later.
He was also called "King of the High C" for his ability to play expressively in a high register stand up against some of the greatest stars on the modern jazz scene or beyond.
Ferguson's Albums demonstrate a progression through big band swing, bebop, cool jazz, Latin, jazz/rock, fusion, and blending classical and operatic influences.
1. Maynard Ferguson the King of the "High C."
Maynard Ferguson could play higher and more accurately than just about any trumpeter in jazz history up to that date.
He maintained most of that range throughout his career and has been one of Jazz's most prominent musicians since the 1970s.
Ferguson's phrasing and vibrato have influenced generations of trumpet players. He conducted, cued his guys, or snapped his fingers and enjoyed the music when he wasn't playing his trumpet.
He's been a hustler, a relentless worker, and a remarkable giver of his musical talents. Few careers have covered so many diverse genres of music, a tribute to Ferguson's adaptability and dedication.
Conclusion
Ferguson's energy and unique musical skills impressed audiences and critics worldwide.
Wherever he goes, Maynard leaves a trail of admirers in awe of his continued orchestrating talent, skill, diversity, and stamina as the happiest and most energetic stage presence on the planet.
Ferguson's musical talents were discovered at a young age in his hometown of Montreal, Quebec. By thirteen, he performed as a child prodigy with the Canadian Broadcasting Company Orchestra.
Maynard was found progressively by the foremost Big Band leaders of the era: Stan Kenton, Count Basic, Duke Ellington, Woody Herman, Dizzy Gillespie, and the Dorsey Brothers.