As the Beatles legend prepares to release a new album, Graeme Ross takes a look at some of his best solo and Wings work
Paul McCartney with his wife Linda in 1970, days after he said The Beatles would never work together again
 (Rex)
n 18 December, Paul McCartney's McCartney III – the eagerly awaited third act in the former Beatle's series of self-titled home-made solo albums – is released.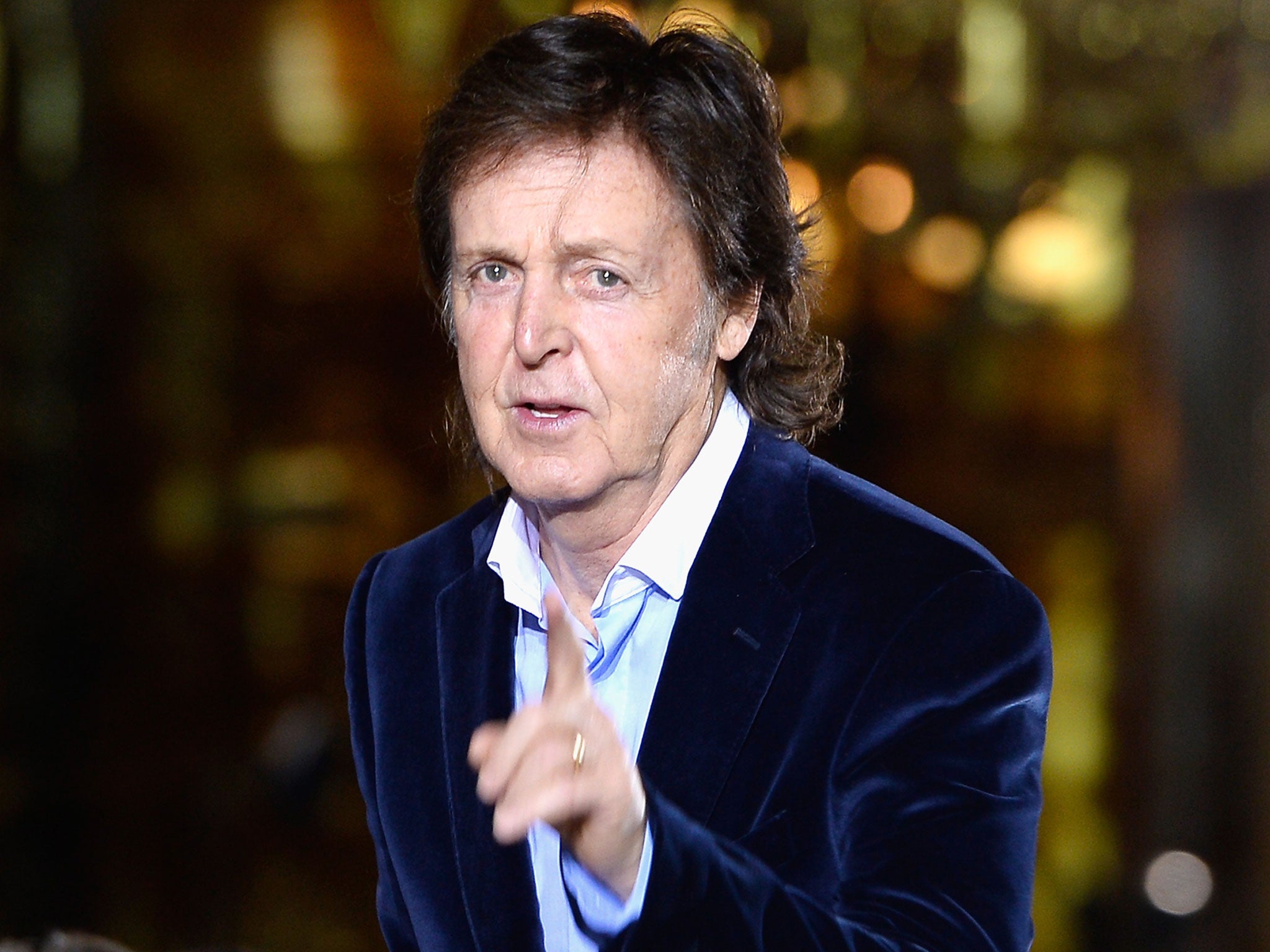 Conceived and recorded during lockdown, it serves as the rather belated follow-up to the domestic splendour of 1970's pastoral McCartney and the leftfield electro-pop of McCartney II a decade later.
It seems clear that, aged 78, McCartney still retains the love of, and the desire for making music. Fifty years into his post-Beatles career, now seems an appropriate time to look back on his 20 greatest songs with his group Wings and as a solo artist.
20) "Take it Away" – Tug of War, 1982
The perfect example of the breezy, effortlessly melodic pop that has always been second nature to McCartney. With Ringo on drums, George Martin producing, and 10cc's Eric Stewart arranging the lustrous harmonies a la "I'm Not in Love", this US No 1 single found McCartney at his Eighties commercial peak.
19) "Heaven on a Sunday" – Flaming Pie, 1997
The dreamy, laidback and very moving "Heaven on a Sunday" is a real family affair, with Paul's son James on guitar and Linda on backing vocals – her last album before her death – making the lines "If I only had one love/ Yours would be the one I chose" all the more poignant.
Paul McCartney appears on Carpool Karaoke- trailer
18) "Pipes of Peace" – Pipes of Peace, 1983 
After two decades of writing songs whose impact will last for as long as people listen to music, McCartney created this timeless anti-war anthem. Backed by an award-winning video recreating the famous First World War Christmas truce, and incorporating pan flutes, a children's choir and orchestral overdubs, "Pipes of Peace" spent two weeks at No 1.
17) "Waterfalls" – McCartney II, 1980 
The experimental McCartney II was deemed a misfire on release but is now considered ahead of its time. The understated "Waterfalls" is one of its most influential tracks. An unlikely top-ten single, "Waterfalls" is a cautionary plea to Macca's loved ones to look after themselves, "'cause I need you".
16) "Riding to Vanity Fayre" – Chaos and Creation in the Backyard, 2005 
A real deep cut with a hazy, psychedelic vibe from the album that sparked McCartney's late career renaissance. It finds McCartney in an uncharacteristically vitriolic mood; he explained that, although the song had no specific individual target, it was all about getting his own back on people who rejected his friendship through the years.
15) "Silly Love Songs" – Wings at the Speed of Sound, 1976 
A defiant, unrepentant riposte to critics who carped at his predilection for sappy love songs, or reaffirmation of a master craftsman's melodic genius? Either way, and powered by that unmistakable McCartney bass-line, "Silly Love Songs" took Wings to the top of the Billboard charts. Silly, lightweight, and sentimental? Yes, but what's wrong with that?
14) "Too Many People" – Ram, 1971 
McCartney's barely concealed attack on John and Yoko opens with the words "Piss off cake", provoking Lennon's infamous riposte "How Do You Sleep?" However, at its heart, "Too Many People" is also a great rock song, in turns melodic and rocking with some fine guitar solos.
13) "Let Me Roll It" – Band on the Run, 1973
Often described as a John Lennon pastiche thanks to its dirty guitar leitmotif and tape echo, "Let Me Roll It" is one of McCartney's most enduring songs, still found on his setlist today. It's simply one of the best hard rock songs of his career.
12) "Say Say Say" – Pipes of Peace, 1983 
An inspired collaboration with Michael Jackson resulted in this sublime slice of disco-pop produced by George Martin. "Say, Say, Say" showcased the best of both artists' talents and one that, when released as a single, was only held off the top spot by Billy Joel's mega-selling "Uptown Girl".
11) "Dominoes" – Egypt Station, 2018 
McCartney's golden autumnal roll of albums continued with the superb Egypt Station. "Dominoes" is McCartney's finest song of the 21st century with its final third evoking Revolver-era experimentation. backwards guitars and all.  "It's been a blast" he concludes but thankfully he's not saying goodbye just yet.
10) "Junk" – McCartney, 1970 
McCartney described "Junk" as just a pot-pourri of nice words that he had to make sense of. And with this list of neglected items in a junk shop, he produced an unpolished gem. Originally rejected for the White Album, "Junk's" simple rustic charm and lovely melody found a home from home on McCartney's stripped-back debut.
9) "Another Day" – single, 1970 
A deceptively simple variation on "She's Leaving Home" and "Eleanor Rigby", detailing the mundane existence of a lonely spinster, "Another Day" was a worldwide smash. Its success, along with that of McCartney's debut album demonstrated that despite being perceived as the man who broke up the Fab Four, bereaved Beatles fans couldn't get enough of the man's solo work.
8) "Here Today" – Tug of War, 1982 
A quite beautiful, heartfelt elegy for John Lennon, taking the form of an imagined conversation between the two ex-Beatles. McCartney achieved the difficult task of balancing public expectation with his own personal desire to write a worthy tribute to his friend and, fittingly, George Martin was in the producer's chair.
7) "The Back Seat of My Car" – Ram, 1971 
Lennon believed the line "We can't be wrong" was an attack on him and Yoko, but McCartney insisted it referred to two young lovers taking on the world. Regardless, this melodic beauty – with its early rock'n'roll influence and orchestral arrangement – is almost impossibly ambitious, yet is fully and brilliantly realised.
6) "Every Night" – McCartney, 1970 
With "Every Night", McCartney laid bare the turmoil he had endured during the messy Beatles break-up. It begins with McCartney detailing his struggle with drink and depression and ends as a celebration of domesticity. It's an exquisitely soulful and loving tribute to Linda, for her role in helping him through it all.
5 "Uncle Albert/Admiral Halsey" – Ram, 1971 
Quirky lyrics and fabulous time-changes illuminate this whimsical, quintessentially English confection that somehow managed to top the US singles charts. It's a perfect example of McCartney's genius for fusing disparate fragments of song into a seamless and quite brilliant whole.
4) "Jet" – Band on the Run, 1973 
This hook-laden classic was named either after a dog or a pony belonging to the McCartneys, and despite mention of suffragettes, don't look for any great depth in the lyrics. Just enjoy McCartney's greatest post-Beatles vocal and marvel at his fantastically propulsive bass-line and the kitchen-sink production which throws in synthesisers, brass and huge guitars.
3) "Live and Let Die" – single, 1973 
Big, loud and completely over the top, the theme song to Roger Moore's first outing as 007 is everything a James Bond song should be. It owes much to George Martin's production, but McCartney himself brilliantly embraced the spirit of past Bond soundtracks on what would become a live tour de force.
2) "Band on the Run" – Band on the Run, 1973 
The magnificent, intricately structured three-part title track of McCartney's finest non-Beatle album ebbs and flows majestically. The title alludes to Wings' difficult birth and early travails and the famous line "If we ever get out of here" came from a remark by George Harrison during an interminable Apple business meeting.
1) "Maybe I'm Amazed" – McCartney, 1970  
As fine a song as has ever been written about the wonderment of unconditional love. "Maybe I'm Amazed" is a fitting tribute to Linda and her role in picking Paul up after the break-up of The Beatles. If there is one McCartney solo song that stands comparison with the best of his Beatles songs, then this is it.