When musician Emil Reinert sat down at the piano inside Dritan Alsela Coffee in Düsseldorf, Germany, he expected to see some surprised faces. However, he had no idea that there were two opera singers enjoying their coffee in the same shop. Since they both knew the Italian piece Emil was playing, they decided to start singing along. Everyone was delighted by the impromptu performance, including the pianist!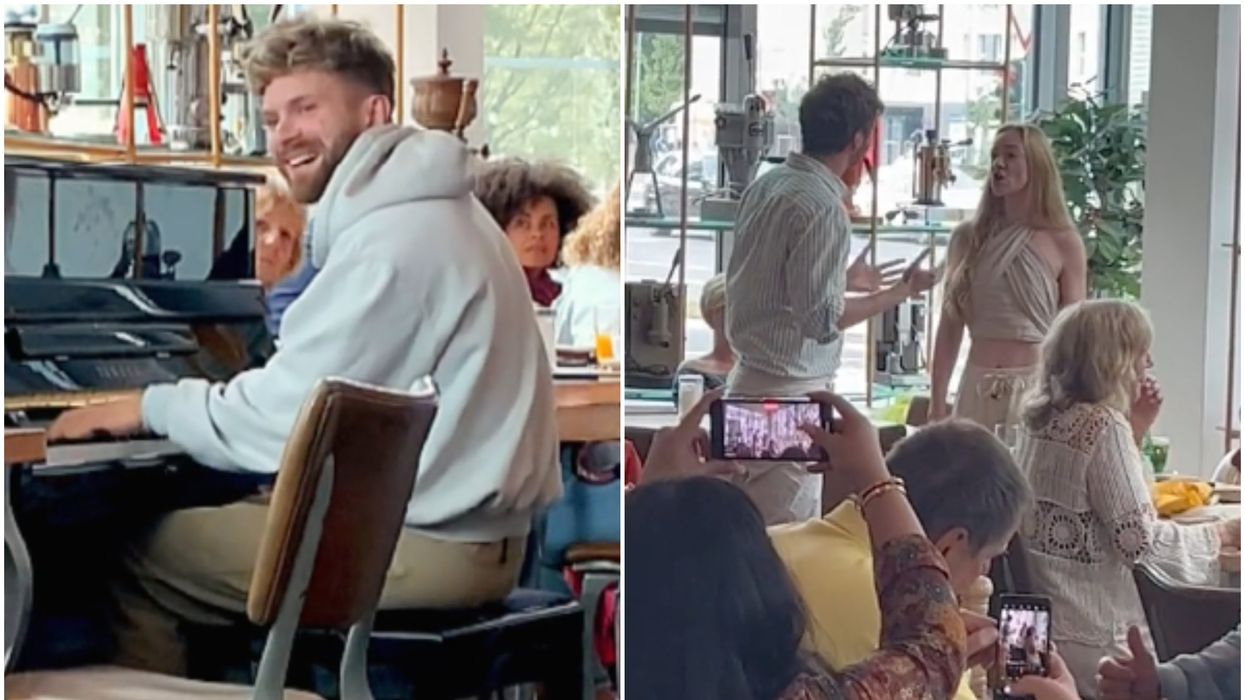 Emil captured the candid moment on camera and shared the video to his YouTube channel, where it received over 200K views.
"Music always connects people," he wrote in a caption over the footage. "I had goosebumps."
Watch the video below to see the spontaneous café concert!
A pianist has become an overnight sensation after his performance at a cafe took an unexpected twist.
Emil Reinert was at the Dritan Alsela coffee shop in Dusseldorf, Germany, earlier this week when he launched into a piece from the opera 'La Traviata'.
The surrounding diners looked bewildered at the musical outburst as they sat casually sipping their drinks.
However, Reinert himself was left with "goosebumps" when a man sitting across the room suddenly erupted into song.
The stranger with the Royal Albert Hall-worthy voice accompanied the piano player until the end of the verse, at which point a second surprise performer piped in.
The man's friend, who was sitting opposite him, also turned out to be an opera singer and, together, the trio wrapped up the impromptu rendition to rapturous applause.
Reinert, who goes by the username emiliopiano on TikTok, posted a video of the spontaneous show, with the caption: "I met 2 SINGERS in a CAFÉ!!"
In the overlay text to the two-minute clip, he wrote: "This is what happens when you play Italian music in a café."
He then wrote that he was "so happy" when the man joined him and noted that everyone in the room "soon became silent" and started filming on their phones.
The Franco-German musician concluded his video by hailing the experience as proof of the unifying power of music.
The recording racked up a staggering 53.9 million views in just two days, as fellow TikTokers shared their delight at the heartwarming display.
Reinert captured the shock and delight on the faces of his audience@emiliopiano/TikTok
"These people just got free tickets to a very expensive show," one commented.
"It's fun cause they probably get paid to sing […] so this was just for the moment," wrote another.
"As a former dancer I can tell you some people just love their art and share it anywhere anytime," pointed out a third.
"Music is a universal language even if you don't understand the lyrics you can find beauty in the song," said a fourth.
And a fifth said: "I would love to be somewhere when this happens. It makes me so happy to see spontaneous joyful music."
Meanwhile, a number of killjoys were quick to flag that the whole thing was most probably "staged".
Reinert has amassed 2.2 million followers on TikTok thanks to his videos which have been shot in unlikely settings around Europe, from airports to beaches.
Each one sees him happily tickling the ivories on his own before he's joined by a "surprise" bystander who happens to have brought along an instrument or an exceptional singing voice.
And yet, as many fans point out, it doesn't matter that the whole thing is pre-planned.
"I know these are staged," one viewer wrote. "But they still make me cry the happy tears."