Geniuses are different from you and me, and we often make them more remote by casting them in cold plaster, portraying them as saints and explaining their work as an intervention of God.
And since genius in music seems to be more ineffable than in any other field, it's even harder for the likes of you and me to explain. Thus mythologies arise–out of distance and time and a dearth of quotidian details–and in our imaginations the feet of a Johann Sebastian Bach barely touch the ground. The scores, after all, are a little unearthly, the fugues juggling four, five, six voices, none of which ever fall but land gently according to the composer's graceful resolutions. The great Passions do soar higher than cathedral spires and will last longer. And Bach's Toccata and Fugue in d minor is both an apotheosis and (thanks to associations with Lon Chaney and beyond) a parody of great organ music.
Perhaps this is enough. Perhaps the timelessness and the placeless-ness of Bach's music are what make it a kind of scripture in sound. Enough to know that he was somehow touched by the eternal, and he lived to grace our experience with transcendent experiences.
Then again, maybe we can take a particular pleasure and even gain some insight watching this otherworldly fellow plod along in ways we can all understand. It might make the achievements seem all the more astonishing.
Even middle-class life in an 18th-century German town was, by our standards, extremely hard. The wood stove was not yet invented; food was cooked in a pot over an open fire. Wood had to be secured and split. Water had to be carried by hand from a cistern and woe to the family that let it freeze in the winter. A composer had to be adept at sharpening goose quills before he could write a note, and a petty prince could deny the world a deathless organ prelude by denying his ingenious lackey a supply of score paper.
And common illnesses could turn deadly in a day. A young, beloved wife could kiss her husband good-bye as he accompanied his employer to a nearby resort, and lie beneath the earth before he got back. The operation for appendicitis would not become generally available for another 170 years. Most families, including Bach's, buried as many children, if not more, as survived to adulthood.
Not to diminish the genius or elevate our own plodding selves, but Bach was also rooted in the world in a way we all share: he had to work for his living. He had jobs; he had employers; he had his conflicts with them. He put out feelers when things became intolerable. He had to feed his family and at the same time satisfy his massive need to create, and innovate.
His last, and longest-lasting position was the best-known: as the choirmaster for a crumbling, neglected school for poor children in the St. Thomas church in Leipzig, he sacrificed half his salary to delegate his duty to teach Latin, and somehow managed to create a magnificent church music that neither the ecclesiastical nor the civic authorities particularly wanted. We associate Bach with Leipzig, but it was his worst paid, most frustrating post of a half-dozen frustrating posts. Yet he stayed for 27 years, composed the two great Passions of St. John and St. Matthew, and a cantata every Sunday for 200 Sundays until he finally got tired and began borrowing and recycling. It's not as if he didn't continue to look around. But stability, and security, such as it was, kept him there.
Arnstadt
The journey began at Arnstadt, where he was court organist for the resident count. Bach at 19 was already becoming legendary for his skills at the organ. He was the first man a town approached when there was a new organ to be put through its paces. It was here that he composed his Toccata and Fugue in d minor, possibly a test piece for such an occasion. In Arnstadt, Bach experienced a dilemma common in the workplace: his job description changed to include duties that he had assumed on his own initiative and made a certain success of (the direction of a student choir), with no increase in pay.
This was irksome, as were the students, who were riotous, wore rapiers in the streets and challenged their choirmaster's manhood whenever they could. An altercation with a student helped earn Bach a reputation as a hothead from his early biographers. But the situation was most irksome because he was hungry to learn, and he was starving. He asked for a leave of four weeks to set out on foot for Lubeck, to listen to and study with the great organist Dietrich Buxtehude. Lubeck was 250 miles away. Poverty and the condition of roads made walking the best option. Sometimes it was actually faster than taking a coach. But even at twenty miles a day Bach would have needed the entire four weeks for the trip there and back. As it was, he casually stayed four months, absorbed what he could from Buxtehude, avoided betrothal to his daughter as a perquisite for succeeding the old man on his retirement, and trudged back to Arnstadt certain of, but apparently not in fear of, punishment and censure.
He did face criticism for his tendency to fill the church with harmonies that were a little too daring and made good Lutherans forget when to sing. The church council chided him "for having hitherto made many strange variations in the chorale, mixing many outlandish tones in it so that the congregation has become confused thereby."
One particular non-musical rebuke suggests that Arnstadt, despite the constraints for a genius of twenty-one, was a fortunate post: "They further inquire by what right he recently had an unfamiliar maiden invited into the choir loft and let her make music there." This was his second cousin Maria Barbara, soon to be his wife.
Mulhausen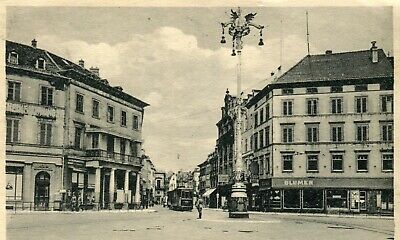 His next job was in the free imperial city of Mulhausen, which meant that it was not subject to a prince, petty or powerful. Bach was given the post of organist at St. Blasius church, which had survived a catastrophic fire two weeks before Bach's arrival in May of 1707. The fire claimed 400 homes and stables and the city council apparently had trouble locating pen and ink to sign the young man's contract.
In Mulhausen, Bach worked under councilmen, not church authorities, and they valued him. They asked him to write a cantata for the festive ceremony surrounding the changing of the council. The result, "Got ist mein Koenig" (God is My King), was performed in February 1708, and the council took the extraordinary step of engraving the work on copper and printed it at city expense. It was and would remain the only cantata Bach saw printed in his lifetime.
Bach planned and oversaw the renovation of the organ of St. Blasius. The council was delighted, and agreed to pay for Bach's proposals. Yet he resigned after just a year, because theology got in the way of music. In his letter of resignation he noted an important goal that had been thwarted, the creation of "a well-regulated church music to the glory of God and in conformity with your wishes."
Bach was, by upbringing, Lutheran Orthodox. The chief pastor of St. Blasius was a Pietist, and music of the sort Bach wanted to provide was not only unnecessary, but nearly idolatrous. It was a roadblock, and Bach and Maria Barbara hit the road.
Weimar
Next Bach found himself in the crossfire of the kind of intra-family feud that would make a pretty compelling movie. In his wanderings as a younger man, Bach had spent some time as "personal music lackey" to Prince Johann Ernst of the court of Saxe-Weimar. This elderly and kindly man was locked in a power struggle with his brother Wilhelm Ernst. It was no contest. Wilhelm Ernst was ruthless and ambitious, and he consigned his weaker brother to the margins. A kind of line was drawn down the middle of the court, which would have been comic if Bach had not suffered for it. Johann Ernst died in 1707, and now the officious Wilhelm Ernst's enemies were his nineteen-year-old nephew, Ernst August, and his younger brother and father's namesake, Johann Ernst.
Wilhelm Ernst cared little for music but liked prestige, and Bach was already someone that other people thought highly of. The nephews were both musical, Johann Ernst especially so, and Bach became a member of the "joint court ensemble." His Italian Concerto was among the pieces written in Weimar. Johann Ernst was gifted enough that Bach arranged two of his compositions as organ concerti. The close relationship between Bach and his aristocratic pupils soon provided Uncle Wilhelm with a weapon in his war with his nephews.
He soon forbid Bach to make music in their part of the court. Bach's contract was with the "joint ensemble." So he followed the contract. For some time there were no repercussions, but then Wilhelm Ernst struck with some punitive austerity measures. Most damaging was that he denied Bach access to music paper; in effect, he forbade Johann Sebastian Bach to compose music. Bach's response to this villainy was to compose, after nine years in the dysfunction of Weimar, another letter of resignation.
But not before he'd composed, earlier, his cantata "Ich hatte Bekummerius" (I Had Much Distress) on the death, at 19, of his employer, pupil and friend, Prince Johann Ernst.
Now another young musician-prince wanted Johann Sebastian Bach to make music with him. Leopold of Anhalt-Cothen was the young heir of sensible parents who talked and walked religious tolerance and fiscal responsibility in their principality. When he took over at twenty-one he'd learned his lessons well. Bach wanted to take his growing family there, and get away from the pious hypocrite, Duke Wilhelm Ernst. But the Duke withheld permission to leave as he had withheld score paper. According to biographer Klaus Eidam, as a court musician Bach was again a lackey; he ranked above a coachman or a groom, but below a valet or a gardener! Wilhelm Ernst ignored his petitions to resign. So Bach ignored his duties to the Duke. The Duke threw him in jail for a month. Finally, peer pressure from other noblemen, who knew Bach's reputation, shamed the outrageous Wilhelm Ernst to let Bach out of jail and out of Weimar.
Cothen
Leopold was a Calvinist, and therefore worship in Cothen didn't require the kind of "well-regulated church music to the glory of God" that Bach wanted to write. But Leopold was an accomplished musician with taste and a good orchestra, and he revered his court composer's talents. Larger view Cothen
It was here that Bach, between the ages of 32 and 36, poured forth some of his most familiar instrumental music: the Brandenburg Concerti, the Cello Suites, the Violin Concerti, the Orchestral Suites, the Violin Sonatas and Partitas, and at least the groundwork for the Well-Tempered Clavier. He arrived in Cothen late in 1717, and for two and a half years it was something of a golden time. There were four children, including, by 1720, ten-year-old, Wilhelm Friedemann and six-year-old Carl Philipp Emmanuel. The Bachs had buried three others. But in the summer of 1720, while Bach was accompanying Leopold to the resort of Carlsbad, Maria Barbara died of appendicitis. She was already buried when Bach returned home.
Most biographers point to the difficulties of keeping an 18 th-century house without a wife and mother and other practicalities that "compelled" Bach to marry again eighteen months later. But the woman he wished to marry was just 19, and was, by the standards of the day, independent and career-minded. Anna Magdalena Wulken was a singer at a nearby court, and supported herself by her work. Klaus Eidam asks two sensible questions. One, would "a young woman of today . . . deem it a special stroke of luck to marry, right after her twentieth birthday, a widower almost sixteen years her senior, with four children–particularly a young lady already practicing her own profession and not at all badly paid?" And two, in reference to the "sound reasons" for marrying, "why would Bach select such a slip of a thing, used to going her own way, and totally inexperienced in running a household, much less in bringing up children?" Maybe it wasn't practical at all. Maybe it was just love.
Bach married Anna Magdalena on December 3, 1721. Leopold was happy for him, especially since he was in love himself. Eight days later Leopold married Friederike Henrietta of Anhalt-Bernberg, a woman who loved pomp and splendor and music mattered only as far as it served military displays.
After that Bach wrote only keyboard music in Cothen for his own use. Leopold didn't need a court composer any more. Bach still had a place, but it would be more accurate to say he received an allowance rather than a salary.
Leipzig
The triumphs and the trials of Bach's 27 years in Leipzig are much too big a subject for us to go much beyond their threshold here. On May 29, 1723, a weekly newspaper in Leipzig, The Holstein Correspondent, reported, "Last Saturday at noon four wagons loaded with household goods arrived here from Cothen; they belonged to the former Princely Music Director there, now called to Leipzig. He himself arrived with his family in two carriages at two o'clock and moved into his newly renovated residence at the Thomas School." Larger view St. Thomas Church
[image]
We can be skeptical about what "newly renovated" meant. The St. Thomas school was for the poorest children; it was not well supported by the city, and the building had not been improved for 200 years. It was not a lucrative position, and Bach knew it. But because it was a big city (30,000 inhabitants), he hoped to make up the difference by providing music for the many weddings, christenings and funerals a big city would generate. And Georg Philipp Telemann, a good businessman, had considered the position, so it must have possibilities.
Bach's struggles over the years with the civil and ecclesiastical authorities were constant and complex. They began right away with his assertion that the choir loft of the St. Nicholas Church would collapse under the weight of the singers he required for his St. John Passion in 1724, and that the organ had not been repaired in 32 years. Both the church and city councils ignored his concerns. Therefore he sidestepped the tradition that the Passion music would alternate each year between St. Nicholas and St. Thomas. He printed out fliers at his own expense announcing, on his own initiative, that tradition this year would bow to good music and safety. The new guy was deemed "irascible" and a troublemaker right out of the gate.
On Open Air Tuesday night, April 26, at 8 p.m., we'll sample a little of what Bach wrote where and when and in whose service.
1 of 2
2 of 2