By request of BKhon – I hope he wasn't working on the same list. I had been considering this subject for a while, and I'm thinking of one for classical pianists, as well. This list looks at the ten greatest violists in the entire history of western classical music. Note the notable mentions at the bottom and be sure to add your own to the comments.
10. David Oistrakh plays Tchaikovsky Concerto (1st Mov.) Part 1
He lived from 1908 to 1974, and, because he was born the same year that #2 died, he was referred to as his reincarnation. He was Russian and became world famous for his recordings and recitals of Tchaikovsky's Concerto, as well the standards by Beethoven, Brahms and Mendelssohn. He was friends with several prominent Russian composers, including Prokofiev, Shostakovich, Khachaturian and Glazunov, all of whom wrote works dedicated to him, and which he premiered.
Tchaikovsky's Concerto was his favorite work, and some say he made the best recordings of it, which is a huge feather in any violinist's cap. He described the last movement of it as the violin equivalent of running a 3-minute mile.
9. Kreisler: 2 hours of Perfection – 38 short pieces
One of the first true masters of the pre-recording age to make his mark in the sound studio. Kreisler lived from 1875 to 1962, and was known for a very polite, charming tone quality, not bombastic or forceful, but technically perfect, as if he were asking the audience's permission to show off now and then. He is typically contrasted with #5, whose technical abilities were just as perfect, but whose tone was much more aggressive, even in slow passages.
Kreisler was one of the few classical musicians to die wealthy back then, having been struck by cars twice, once in 1941, which fractured his skull and put him in a week-long coma, and again a few months before his death, a traffic accident which left him blind and deaf. He was known to be supremely polite and gentlemanly to everyone he met, and this has been noted as an abiding quality of his playing. He wrote what is, today, the most popular cadenza for Beethoven's Violin Concerto in D.
8. Mischa Elman: Wieniawski Concerto (2nd mvt.) Romance
His admirers and the virtuosos today consider him to have been one of the greatest in the age of recording, along with #5. He had a pristine technique and a tone quality that #5 described as "a photograph of my painting." The emotion he could express via his instrument was rich, full of passion and yet very refined, though lacking, perhaps, a little of the intensity and verve #5 expressed.
He lived from 1891 to 1967, and #2 recommended him for the Imperial Academy of Music in Odessa, Ukraine. He could already play, at 11 years old, some of the most difficult pieces ever written, including Wieniawski's 2nd Concerto. He was quite short, at about 5 feet 3 inches, and, along with his wide fingers, this hindered his ability to hit the very high notes. He practiced for years until he perfected his technique, and would bend over a bit during performances in order to play properly. It worked for him, and he used to say that he didn't care what he looked like while he played.
He is also the progenitor of the famous joke, when walking home one evening in New York City, from a poorly received recital, he was stopped by a passerby who intended to go to his performance, but was late. The passerby asked, "How do you get to Carnegie Hall?" Elman winced and said, "Practice, practice, practice!" as he walked on.
7. Perlman Tartini Devil's trill Part 3 onlive(corrected audio)
Tartini lived from 1692 to 1770, and his origins on the violin are fun. His parents wanted him to be a friar, since that was one of the few careers that would guarantee he didn't starve. All monasteries taught basic music as part of their schooling. He took up fencing at the University of Padua, where he studied law, and after his father died, he married Elisabetta Premazone, whom his father would not have liked because she was of a lower class. But she was a mistress of Cardinal Giorgio Cornaro (there was more of a Cardinal in the bird than in him), who promptly accused Tartini of making off with her. So he fled, rather than be caught and excommunicated or killed.
He went to the monastery of St. Francis of Assisi, and began studying the violin. He had a lot of talent for it, and the story goes that when he considered himself a master, he went to a performance of Francesco Veracini, whose playing made Tartini flee to Ancona and practice a lot more. By 1821, he was the primary performance rival of #3, famous all over Europe for his impeccable trills and tremolos.
His most famous work makes extensive use of trills: the Devil's Trill Sonata for solo violin (played above by notable extra Itzhak Perlman), in which the performer must play rapid, grueling double-stop trills. Many professionals today cannot handle it. Some say that Tartini heard the devil play it in a dream, and his composition the next morning was terrible compared to what he remembered.
6. Ole Bull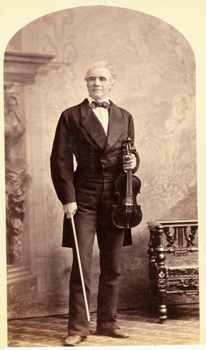 He is not an American Indian, as his name seems to suggest in English. He was Norwegian, and lived from 1810 to 1880, during which time he toured Europe concertizing with the likes of Franz Liszt, Clara (and Robert) Schumann, Felix Mendelssohn and others.
Back then, the public didn't have TV to distract them until 7:00 in the evening, so they showed up at noon, with their lunch and supper, and the recitalists had to wow them for up to 6 hours. No one person can be expected to do this, of course, so various great performers would collaborate when passing by each other's home towns.
Robert Schumann considered Bull to have an uncommon clarity and precision in his technique, to the point that, no matter how fast the music got, Bull never missed a note, and you could hear them all just fine. Clara loved him more than any other violinist she heard in person. Not an easy virtuoso to outmatch, but as so often happens when ranking great performers before the recording age, at some point the rankings begin to split hairs. That is the case, save one or two entries, with this list.
5. Jascha Heifetz plays Tchaikovsky Violin Concerto: 1st mov.
By far the greatest performer of the modern recording age. Born in 1901, died in 1987, he is one of the very few, if not the only one of, players who can hit the high note at the end of Tchaikovsky's Violin Concerto and give it vibrato in the fifth of a second or so of its playing time.
He became legendary with his recording of Zigeunerweisen, written by another performer on this list, which showcases almost every technique a violinist par excellence should have. It became Heifetz's signature piece. After a slow segment, the fast part incorporates hair-raising pizzicato and bowing passages at the same time. Heifetz was more than equal to the task. His admirers have all expressed wonderment at his marvelous tone quality, however difficult the piece of music he was performing.
4. Arcangelo Corelli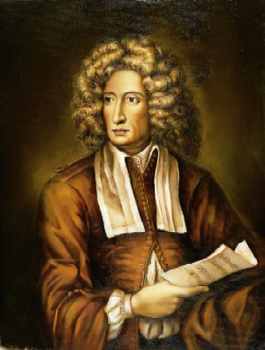 He was born in 1653, and his spot on this list may make you ask, "How do you know how well he played?" Well, even today, almost every violinist can trace his or her performance training back to Corelli. The techniques you hear performers using, fingering, bowing form and posture are all thanks to Corelli. He was famous throughout western Europe in his own day as a performer of the highest order.
He did not like the idea of playing very high notes. Not to say he couldn't, but he thought it always sounded screeching, however well anyone played. His own music almost never goes above D on the highest string. The story goes that Handel wrote an A above this in one of his oratorios, which the visiting Corelli refused to play. He thought it sounded terrible. Handel, an organist, proceeded to play it on his own violin, and Corelli was offended. "I didn't say, Herr Handel, that I couldn't play it. I said it shouldn't be played." Handel himself remarked at the "voracity" with which Corelli could run through scales, faster than anyone else he had heard, and strike the perfect leaps, from octaves to 12ths, 15ths and more.
3. Antonio Vivaldi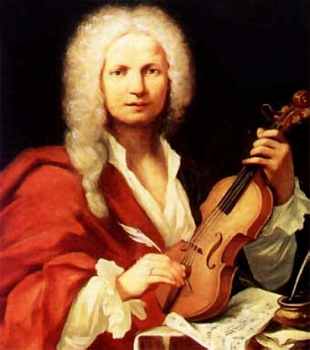 Vivaldi was 25 years Corelli's junior, and became his primary virtuoso rival during Corelli's latter years. Vivaldi's music faded into obscurity after his death, until Fritz Kreisler and Alfred Casella revived it in the 20th Century. Today he is one of the three most popular Baroque composers, with Bach and Handel. He seems to have had asthma, and this prevented him from learning wind instruments, but not the violin, and by his twenties, he had become well known in much of Italy and France as a virtuoso of nearly unrivaled technical artistry.
Even without that virtuosity, he would have landed a spot on this list for introducing the idea of "tone painting," or representing images through music. This he did marvelously with his "Four Seasons," which are four concerti intended to depict, in four movement each, the appearances of nature throughout the year. With the solo violin, which he played in their premieres, he depicts birds singing, lightning and thunderstorms, frozen lakes, etc. The technical demands in these pieces are quite high.
2. Pablo De Sarasate – Zigeunerweizen (1904)
George Bernard Shaw once said of Sarasate that "he left criticism gasping for miles behind him." He lived from 1844 to 1908, and we should consider ourselves supremely lucky to have some of his wax cylinder recordings, from around 1904, including his own piece, Zigeunerweisen (recording above). The recording capabilities back then were terrible for anything other than percussive sounds, like a piano or drums, unless the sound was directed straight into the megaphone. A violin can do neither very well, and it is difficult to hear all the passages of the piece, but they are there, and he doesn't miss a single note.
His technique is actually a little more crystal clear than Heifetz's, without so much as one fuzzy or scraped note, but with all the emotion and speed up to par and brilliant. Any violin virtuoso is inevitably compared with the next entry, and almost always somewhat unfavorably, but Sarasate was one of the rare exceptions whom people can actually hear perform.
Niccolo Paganini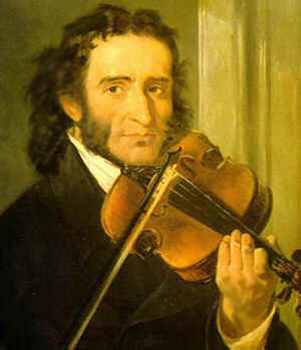 They say he sold his soul to the Devil to be able to play so well. Some like to say that the Devil was sure to have been in attendance at every one of his recitals. On a list of violin virtuosity, no one is allowed to top Paganini. Robert Schumann once said, "Who is most responsible for the foundation of Christianity? Paganini must stand on the same rung of the violin's ladder."
He lived from 1782 to 1840, and traveled Europe leaving the public in abject awe after every recital. He practiced 10 hours a day, by his own admission, and, coupled with his talent, he had no choice but to become as fluent on the violin as he was in Italian.
He became rich by his performances, of course, but did not have a special violin made for him. In the field of violins, the extremely rich are able to acquire an instrument made by the most famous two luthiers in history: Antonio Stradivari and Giuseppe Guarneri.
Paganini owned several fine instruments, but his favorite, and the one on which he played for most of his career, was made by Guarneri, in 1743. Paganini endearingly referred to it as his "cannon violin," and the nickname has stuck. It is Il Cannone Guarnerius, and is housed in the town hall of Genoa, Italy, Paganini's home town, and is taken out now and then to be played on by the best in the world.
Il Cannone has an extremely shallow bridge under the strings, enabling the player to play 4 notes at once with ease, but at the price of an extreme demand for technical precision. Paganini never missed a note. He wrote what remain, by far, the most difficult pieces of violin music of the world's repertory. His very first opus number is comprised of his 24 Caprices for solo, the 24th of which, in a minor, is the most well known, having been transcribed for other instruments, and set to variations, by many great composers.
Paganini could, according to Mendelssohn, who went to several of his recitals, play this caprice on one string. A violin has four strings, and the performer is supposed to use any one of them to facilitate scale runs, octave leaps, etc. Otherwise, very long fingers, and extraordinary dexterity and accuracy are required. Paganini would walk out, take his bows, then ask a random lady in the front row to pick a string. He would then play the 24th Caprice, which was very popular, on that string. He could also play his Moto Perpetuo, or Perpetual Motion, on one string.
His influence on modern violin technique is more profound than any other such influence in music, save perhaps Liszt on the piano.
He boggled so many minds with his breathtaking wizardry, that, on his death, doctors dissected his hands and wrists to see if he had been born a freak: they expected to find more cartilage than usual, but actually found less, because he had played so much he had worn it down, just like a marathon runner's knees. His fingers were quite long, but there had been no cheats or tricks of any kind. He was simply well practiced.
Honorable mentions: Eugene Ysaye, Isaac Stern and Itzhak Perlman, Francesco Maria Veracini; Joseph Joachim; Nathan Milstein, Yehudi Menuhin, Anna-Sophie Mutter, Wolfgang A. Mozart (yes, he was that good).