Nairobi's bustling Kenyatta market is an unlikely place to hear classical music. Yet playing today in front of stalls where butchers roast meat and hairdressers compete over heads to braid is a very surprising busker: the distinguished cellist Yo-Yo Ma. Playing Over the Rainbow alongside Kenyan percussionist Kasiva Mutua, he matches his cello to her beats in a truly eclectic mix.
Ma's broad artistic sensibilities make weaving together the diverse musical traditions of drum and cello seem like a natural fit. "It was symbolic to introduce [classical] music to the crowd through something they know and understand," says Mutua. "Africans understand rhythm to their core."
Ma's pop-up market performance typifies much of his visit in the city over the last week – a daring, headfirst dive into the realities of Kenyan artists. He bashfully makes occasional use of Sheng – a Nairobi slang that plays on words from English and Swahili, and he arrives at the market in a matatu – the music-blaring, graffiti-covered buses that millions in the city rely on to get around.
Mutua says such symbolism bridges perceived gaps. "Classical music has a class – no pun intended. It is seen to belong to a type of people," she says. With Ma's unassuming manner, there is little to let on that he is a 19-time Grammy award-winning internationally-renowned musician who has played on the world's largest stages.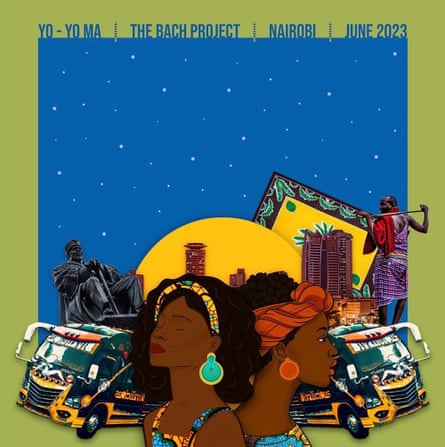 Nairobi is Ma's last stop of his Bach Project – a five-year, six-continent global tour. With its rising cultural and artistic scene, organisers say the city was near the top of the cellist's list.
The project marked Ma's ambition to connect cultures and people across the world, performing Johann Sebastian Bach's cello suites in 36 countries – a nod to the much celebrated six cello suites (which he calls his "constant musical companions"), each of which has six sections. It is one of the cellist's most significant undertakings in recent years.
Bach's cello suites were not well known by the time of the composer's death in 1750. They began to resurface nearly a century later, and were brought to prominence in the 1930s when Pablo Casals, one of the world's most highly regarded cellists, performed and recorded the neglected suites.
Ma has recorded interpretations of the suites three times, with more than a decade between each.
They are wrapped up with his life's memories, he has said, citing his first encounter with Bach's music when he was four: his father, Dr Hiao-Tsiun Ma, taught him the first suite in small, incremental steps with exceptional dedication. Ma Sr, who lived in both China and France, had turned to Bach's music for refuge during the second world war, memorising the sonatas and partitas over the long days, to play them to himself at night.
"For almost six decades, they have given me sustenance, comfort and joy during times of stress, celebration and loss," Ma wrote at the start of the Bach Project in 2018. What power does this music possess that even today, after 300 years, it continues to help us navigate through troubled times?".
Beyond busking, Ma takes to a more conventional stage with a concert at the Kenya national theatre. His audience now is a classical crowd – the £114 auditorium tickets sold out in 24 hours – with prominent members including the arts minister, Ababu Namwamba, and the US ambassador, Meg Whitman.
He tells the audience: "All I had to offer was this music in me," explaining how he used culture to thrive under difficult conditions. He says he wants to celebrate ordinary people, and the project has been a "listening and learning" tour to that end.
Ma plays as though he is the only person in the room. Only the loud applause breaks through to him, earning his bow and embrace of the audience, arms flung wide. The solemn, lonely fifth cello suite – his penultimate performance – makes the auditorium fall silent.
From a viewing room on the upper balcony, Brian Kivuti, a 34-year-old Kenyan jeweller, listens with closed eyes. "For me, it was a practice in presence," says Kivuti. "There are no lyrics telling you how to feel. It's just the music and you, feeling your way through, so you pay more attention to how the notes make you feel."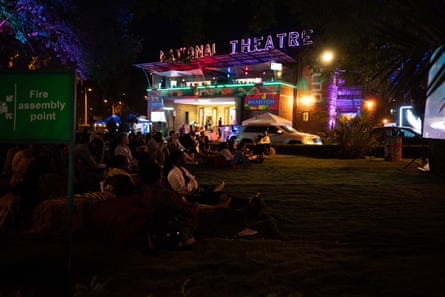 Kivuti, more accustomed to the "emotional bombardment" of an orchestra, says elements of the music were "very European", and it took him time to adjust. "When I started to listen with my body, I could feel notes of hope, the quiet of a Sunday morning, the dizziness of preparing for a party. The rise and fall of the notes allow you to tap into more than just everyday feelings."
At the theatre's Wasanii restaurant, workers perched on rooftop balcony seats to watch a screening of the performance. For Margaret Wanjiru, a 22-year-old waitress, Ma's music is a far cry from what she knows, such as her tribe's Mugiithi. "It may not be the music I grew up with, but it slows you down, however much you're busy, and allows you to get lost in your thoughts."
The Nairobi Orchestra, one of the oldest in Africa, performs ahead of Ma's set, and its musicians are thrilled to have him in the auditorium. Violinist Bernadette Muthoni says: "For me, it was very huge to think that Ma was going to play just a few metres from where we were. He's what a lot of us aspire to."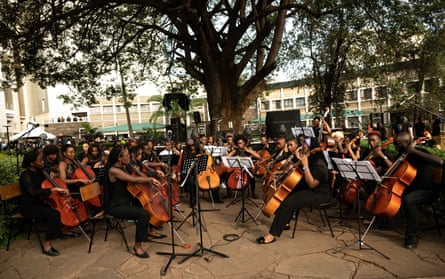 Ma's evening performance is followed by a "day of action" where he engages directly with communities. He explores the Kenyan capital accompanied by local artists, taking to the streets with Dennis Muraguri, a Kenyan visual artist who documents matatu culture through camera and prints. Ma also visits the Real Vinyl Guru, a record store run by James Rugami, who collects Kenyan music dating back to the 40s.
At the Kaloleni Social Hall, a place of great postcolonial symbolism, Ma walks in on a performance by the Ghetto Classics, a music programme for children from disadvantaged backgrounds. "He couldn't keep his eyes off them," says Sharon Machira, a Kenyan creator, who accompanies the cellist on the tour.
Watching Ma, who started his musical journey early and became a child prodigy, she thinks he may have seen his younger self through them. "I think he really identifies with 'the other', because everything he does is about breaking down barriers," she says.
Later there will be a visit to the Kakuma refugee camp, home to more than 200,000 people, for a music collaboration with artists from South Sudan, Burundi, the DRC and Ethiopia.
Ma is increasingly interested in using his work for social impact. He played outside the Russian Embassy in Washington DC last year to protest against its war in Ukraine, and dedicated his Songs of Comfort to providing solace for people during the difficult days of the pandemic.
The Bach Project, and its conclusion last week in Nairobi, are another milestone on that journey.