Heinrich Wilhelm Ernst is not the biggest name in classical music, but his 'The Last Rose Of Summer' is notorious among violinists for being an absolute nightmare to play.
Let's just take a look at a little bit of the score: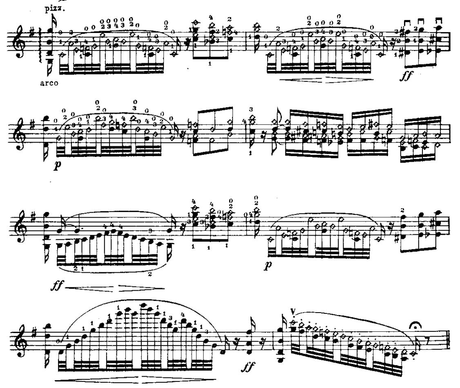 Just take in the horror of that. Let it sink right in. How do you even do those pizzicati? Will this be your face when you attempt it?
Well, perhaps unsurprisingly, Ernst was an obsessive devotee of the original violin rockstar Niccolo Paganini. According to legend, Ernst would seek out Paganini's hotel rooms while he was on tour and press his ear against the door so he could hear the master practicing. Which is obviously a bit creepy, but here we are.
Ernst's stature as a violinist and composer grew steadily, and he soon had a reputation as the next Paganini. His compositions in particular rival his idol's in terms of complexity and, in this case, exceed them:
See how easy it is to have your opinion swayed when someone plays it beautifully? It goes from being an absolute fiend to being an absolute joy.
Here's Hilary Hahn doing a little bit:
And Maxim Vengerov: