Perhaps French composer Bizet's best known work, Carmen has eclipsed the composer's other operatic works. Thanks to its depiction of love, obsession and jealousy, Carmen has become a fixture in opera houses' repertoire worldwide, and become one of the most popular operas ever written.
Ten facts, basic and otherwise, about Carmen
Carmen was premiered in Paris in 1875. Two characters are at the center: Carmen who demands her freedom at any cost, and her lover Don José. He starts out as a respectable soldier, but obsessive love turns him into a lawbreaker, an outcast, and finally, a killer.
Georges Bizet wrote several operas, but Carmen is far and away the most successful. Other popular works by Bizet: the opera The Pearl Fishers, the suites from L'Arlésienne, and the Symphony in C.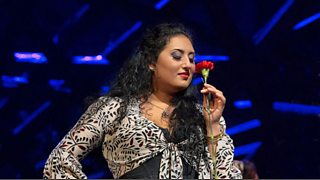 While composing Carmen, Bizet was also teaching piano. One twelve-year-old student remembered, "I was afraid of him. Not that he ever scolded, but the way he would look at you through those eyeglasses! I … sometimes would make little slips in fingering. Then he would say savagely: Je ne dors pas! [I'm not asleep!]" *
The first performance of Carmen was received coldly. Bizet himself regarded its reception as a fiasco. Three months later, he was dead, at age 36, never to know its world-wide success.
The Metropolitan Opera's first Carmen was performed in 1884. This Saturday's broadcast will be performance no. 982.
The opening scene of Carmen takes place outside a cigarette factory in Seville. This was an actual place, which at its height employed 6000 women as cigarette makers. The building still stands today and now belongs to the University of Seville.
The original version of Carmen mixed music with spoken dialogue. The dialogue was soon replaced by sung recitatives, which held the stage for a century. In today's opera world, both versions are heard. (The Met uses the sung recitatives.)
Bizet was very particular about Carmen's opening number, her famous Habanera. After wrangling with his librettist, Bizet wrote most of its words himself. It's said he rewrote the melody 13 times.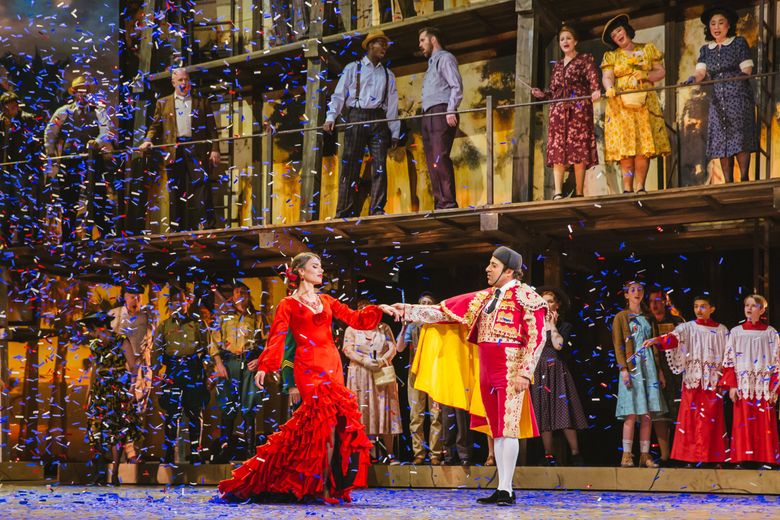 Carmen has been endlessly arranged and adapted: in film, on Broadway, and as a ballet. And then there's that song about the cuspidor.
The opera Carmen is based on a short novel, Carmen, by the French writer Prosper Merimee. One of his inspirations seems to have been a poem by the Russian Alexander Pushkin. Later, the influence may have traveled the other direction: from France to Russia. In Tchaikovsky's opera The Queen of Spades, there's also a soldier who becomes an obsessed outcast. And as in Carmen, there's a chorus of children playing soldier. Coincidence?