In a busy tourist spot, Mia Black, a 12-year-old, stood out with her exceptional voice. She sang 'You Are the Reason' by Calum Scott, a song about love that deeply moves many listeners.
Love is a subject that has and continues to keep songwriters and musicians busy. Whether a track about new love, a breakup or the loss of a loved one, songs about love are churned out at an impressive rate. While music tastes and sounds may change, society's yearning for love and to be loved does not.
In a video posted to YouTube, Mia Black, a young woman, while standing in the middle of a busy, tourist-filled location, steps up to the microphone and sings Calum Scott's "You Are the Reason."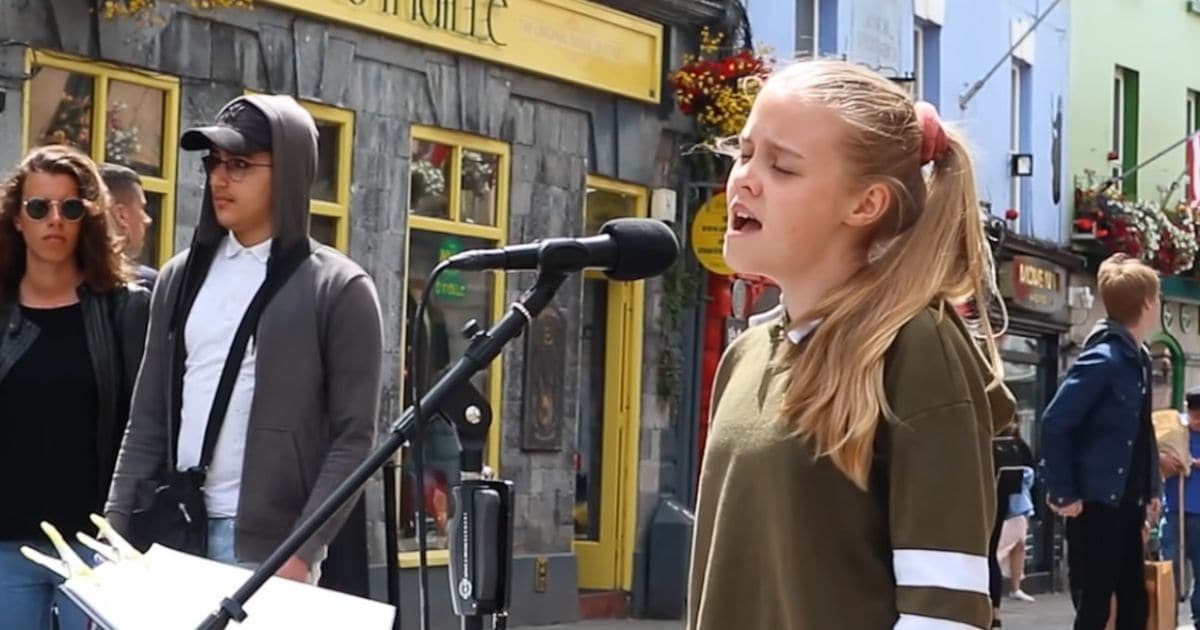 Seconds into the video, after belting out the tune's opening lyrics, one thing is clear: Mia is abundantly and enormously musically gifted. The video's title describes the young woman as being 12 years old, but her voice sounds like it is coming from someone many years her senior.
The clip of Mia's breathtaking vocal performance, since posted in 2019, has been watched more than 9.3 million times!
It's not hard to see why the video has gotten so many eyeballs. The tone, control and strength of Mia's voice are startling. She sounds like a seasoned professional, like someone who has been performing for many years. Other people walking by Mia also seem genuinely taken aback by her stunning voice as well.
Several people stand around Mia, taking in her astounding performance. Even those who do not entirely stop, those passing by, give a glance at the talented street performer.
At the conclusion of the 3-minute clip, Mia receives a hearty round of applause.
This young woman has been truly blessed musically with a wonderful voice.
All musicians need to start somewhere. Many performers begin their careers by performing on the streets. Street performances are how Mia Black is introducing herself to the public. She is only thirteen years old. With her father's support, she is getting a head start in kicking up her singing career.
At the age of thirteen, Mia Black is literally stopping people in their tracks with her angelic voice.
Mia has been into music since before she can remember. In an interview, she said,
"My Dad once said I was humming in tune (in a very basic sense) with the speakerphone dial tone since when I was around 7 months old that was before I could even talk … I've been singing solo since age 7 at concerts, theatre Musicals, and weddings as a guest artist since then."
When she started performing on the streets, also known as busking, she has started to gain more confidence in front of a lot of people. One Song Magazine asked her how she was able to have such strong self-confidence at a young age and she answered,
"Definitely most of it has come from Galway busking, Galway is in the west of Ireland! The 1st time I busked was in August 2018, I was age 11. I was nervous at the beginning but after 2 or 3 times, busking became much easier.
Since her first busking debut in 2018, she has not stopped.
All sorts of people have watched Mia Black perform in the streets of Galway, Ireland, residents, and travelers alike. She does not shy away from performing difficult songs in public. Just like this John Legend song, "All of Me". She performs it really well.
The streets are busy with people as she starts to sing "All of Me." As her father films her performance, people begin to form a crowd around her to listen to her singing and admire her beautiful voice.
Some people even stop to take a video of her performance. That is how captivating her voice is.
In the video, a few people give Mia Black some money for her performance. It's a blessing for street performers like her.
Her angelic voice comes out so naturally. Even while performing a difficult song, she is so relaxed. She is well aware, at her young age, that her voice can handle songs by great musical artists like John Legend.
After her performance, her audience gives her great applause. She shyly smiles back to thank them.
She might have very good control of her voice and her singing. But her smile gives it away and reminds the viewers that she is only thirteen years old. The video of her performance already has over two million views since it has been uploaded on YouTube. It has gotten over three thousand comments such as,
"She has the most amazing voice I have ever heard, keep it up! Great job girl!"

"Such a talented young girl with a beautiful voice."

"She's absolutely incredible such an amazing talent. She sounds like a pure angel!"