Musician Yeesun Kim wakes up every morning the way Pablo Casals did — by playing one of Bach's six, demanding cello suites from memory. With her eyes closed, Kim's fingers dart along her cello's neck with a life of their own. She says it's taken years to wrap her head around Casals' long iconic interpretations.
"Oftentimes when you listen to Casals playing, you don't really think that it's cello," explained Kim, who is a member of the Borromeo String Quartet, which is in residence at the New England Conservatory (NEC). "It's really, literally, like someone reciting their concept about life philosophy. It's a thought, it's not so much musical sound per se."
If you Google "most popular cello pieces," Johann Sebastian Bach's Cello Suite No. 1 is bound to pop up. His set of six unaccompanied suites from the 1700s are like a holy grail for aspiring musicians and virtuosos today, including Yo-Yo Ma. But Casals is credited with making the suites modern sensations in the 20th century and was the first to record them.
"It's like our bible," says cellist Lluís Claret with a laugh. He chairs the strings department at NEC.
Claret, Kim and their students have been getting ready for an ambitious tribute this weekend, put together by Celebrity Series of Boston, that features multiple performances to celebrate Casals' legacy.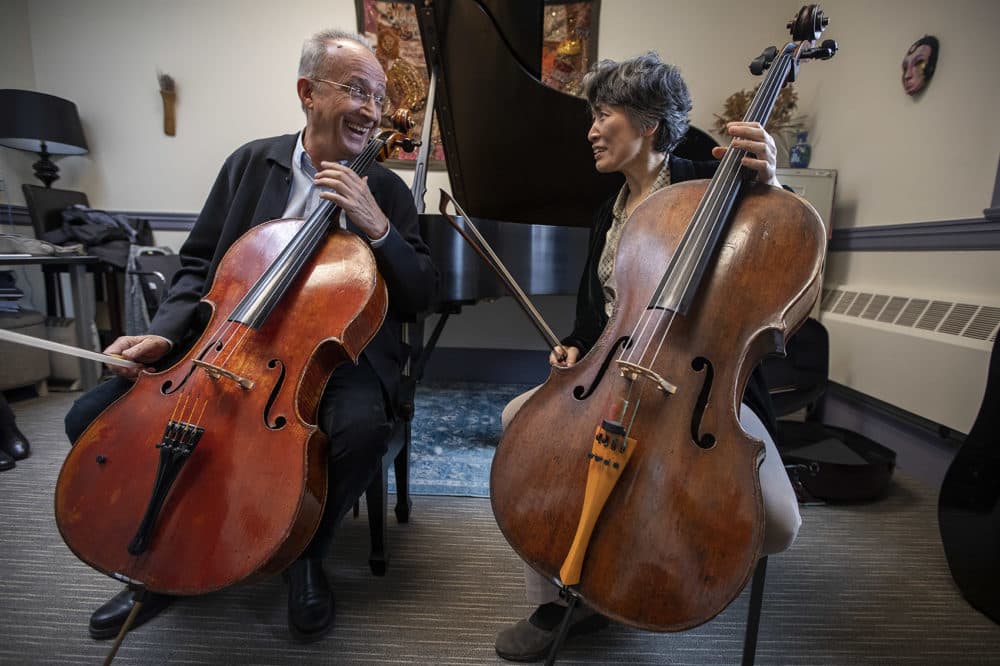 A Life Of Music, And Purpose
Casals was born in the Catalonia region of Spain in 1876. When he was 12, Casals discovered Bach's Cello Suites in a music shop in Barcelona, Claret told me.
The young, determined musician spent years searching for the composer's intentions hidden inside the edited manuscripts. They weren't Bach's originals, because Claret says they don't exist. Instead, Casals worked with copies that had annotation (or directions on how to play the notes) not attributed to the composer.
Before Casals, the cello suites were seen as complex, technical exercises — not for concerts. When he was in his 20s, Casals became the first musician to perform the suites in public. Decades later in the 1930s, he recorded them at London's famed Abbey Road Studios. "It was a difficult period for him," Claret said, "because it was during the Spanish Civil War."
Casals cherished his country; he hated violence and conflict. After years of relentless practice and performance, he created and funded a symphony orchestra and fought to bring affordable music to the masses. He also toured the world performing.
As the Spanish Civil War broke out, Casals protested Franco's dictatorial rule and fled his beloved homeland for France. There he became friends with Claret's parents who were also Spanish refugees. Then World War II erupted. Claret says Casals is the reason he's alive today.
"My father was caught by a Gestapo because he had a Jewish friend," Claret recounted. "He was hiding him in his house, and the Gestapo called my father and brought him to prison and he was going to be killed — and Casals saved him."
Casals used his status as a celebrity cellist, composer and conductor to convince the Nazis to release Claret's father. After the war they organized relief concerts together for kids who lost their parents. Their bond was deep, Claret said, and Casals became Claret's godfather.
As a kid Claret listened to Casals' compositions including, "El Cant Dels Ocells," or "Song Of The Birds." He said it felt as if the music was erupting from the earth.
In his teenage years, Claret started taking cello lessons with Casals' brother, and even had the chance to play for Casals himself a couple of times. These days Claret still carries a faded photograph of himself with Casals in his cello case.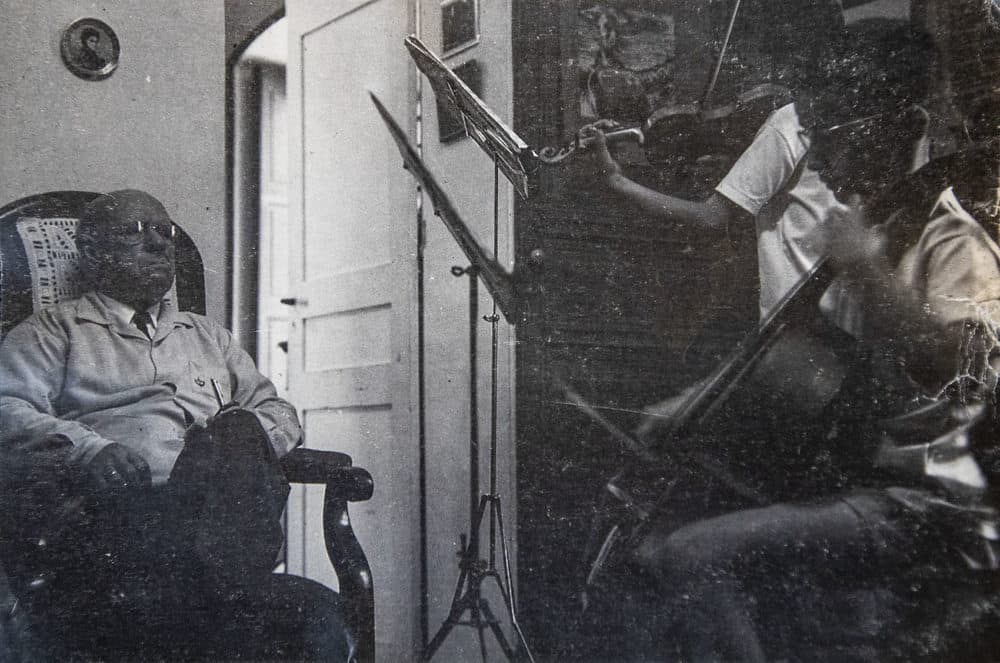 Claret said Casals was so much more than a musician. He passionately believed music must serve a purpose. He moved through life wielding his cello and conductor's baton to fight the injustice he saw in the world.
For years Casals wanted democratic countries including the U.S. to reject rather than recognize Franco's regime. He refused invitations to festivals and even to the White House. But Casals relented in 1961 playing at the White House for President John F. Kennedy and his guests. Luminaries from American music were there, including Leonard Bernstein. Two years later Casals received the Presidential Medal of Freedom.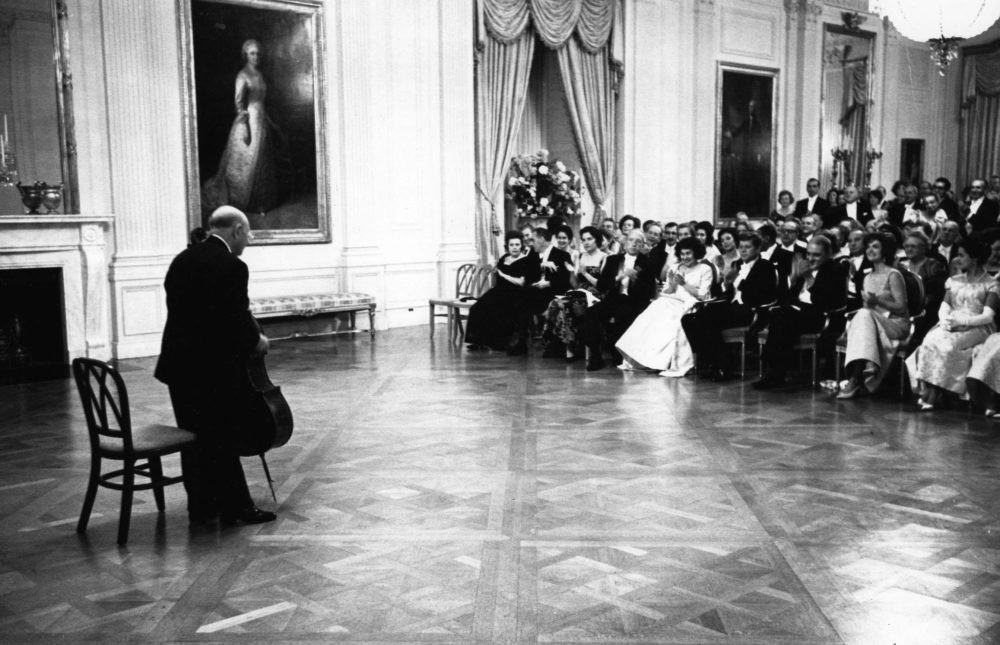 'A Message For The Times'
This weekend, Claret will play a slew of songs connected to his influential godfather. One is "Reverie," a piece Casals wrote when he was young in Barcelona. Not one but two concerts are kicking off a season of programming dedicated to Puerto Rico, where Casals spent the last 15 years his life.
"A little known fact is that Casals mother was Puerto Rican," Pedro Reina said, a historian at the University of Puerto Rico and a Casals scholar. In 1955, the governor invited the then 80-year-old Casals to create a music festival as he had in France to lift the island's cultural spirits and stature. Reina said it was the first time the Puerto Rican government invested money into classical music.
"We need to remember these are the years when television started," Reina explained. "Here you have a man like Casals appearing before the cameras conducting an orchestra at the University of Puerto Rico — so it carried a lot of meaning."
Reina argues Casals' time in Puerto Rico consolidated his legacy. "A lot of people went to Puerto Rico to play with him, and for him, because he was legendary," he said.
Casals also advocated to create the island's first symphony orchestra and music conservatory.
Reina remembers being mesmerized as a kid by magazine shots of an old man walking on the beach in a suit and tie.
"Not only would he play Bach every morning, he walked on the beach in shorts and a panama hat," he said, "so photographers had a field day."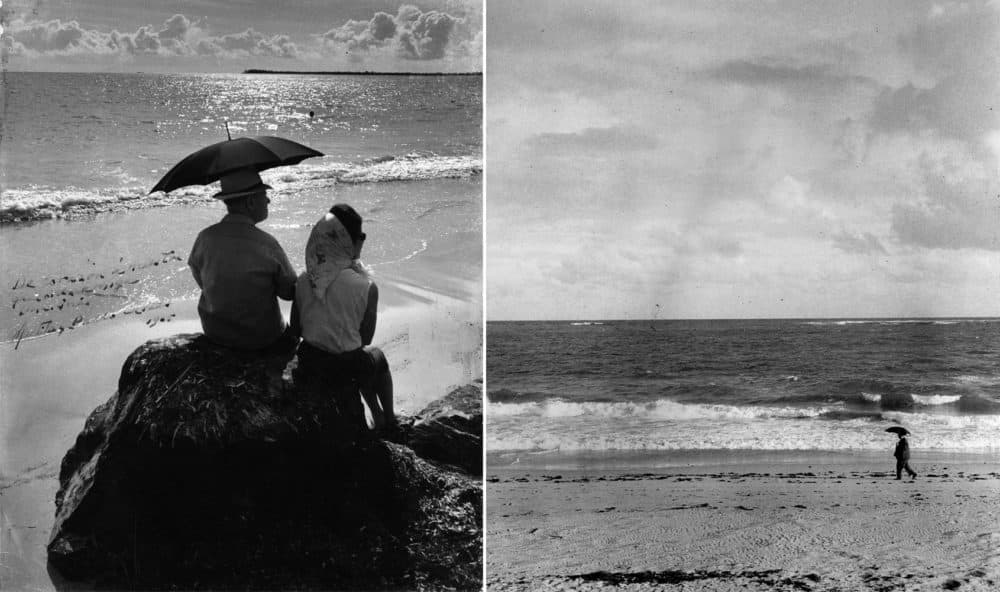 Reina is giving a pre-concert talk at Friday night's performance. That concert features nine star cellists playing music from Casals' 1901 Boston debut recital, a Boston premiere of Casals' "Cinco Obra" for cello and piano and works from the Casals Festivals.
Robin Baker organized the season with the Boston nonprofit organization Celebrity Series for its Neighborhood Arts program which brings free and $5 concerts to communities including Dorchester and Mattapan. She said she wanted to shape a series of events for the local Puerto Rican community that would help raise money in the wake of Hurricane Maria.
"Casals was a humanitarian, he cared so deeply about people all over the world," Baker said, "doing fundraisers and rallying against dictatorship and oppression. So I think that's a message for the times right now and I hope that carries through."
Dozens of cellists are carrying on another of Casals' traditions: the convening of massive cello choirs, which he did at his music festivals. Fifty-six players will come together on Sunday at the Boston Center for the Arts.
"You know we have all these music schools and I thought could we do a mass cello orchestra concert as the second event?" Baker recalled, saying it would be "very Casals-like. I think he would have liked channeling all that energy and wonderful talent in this town."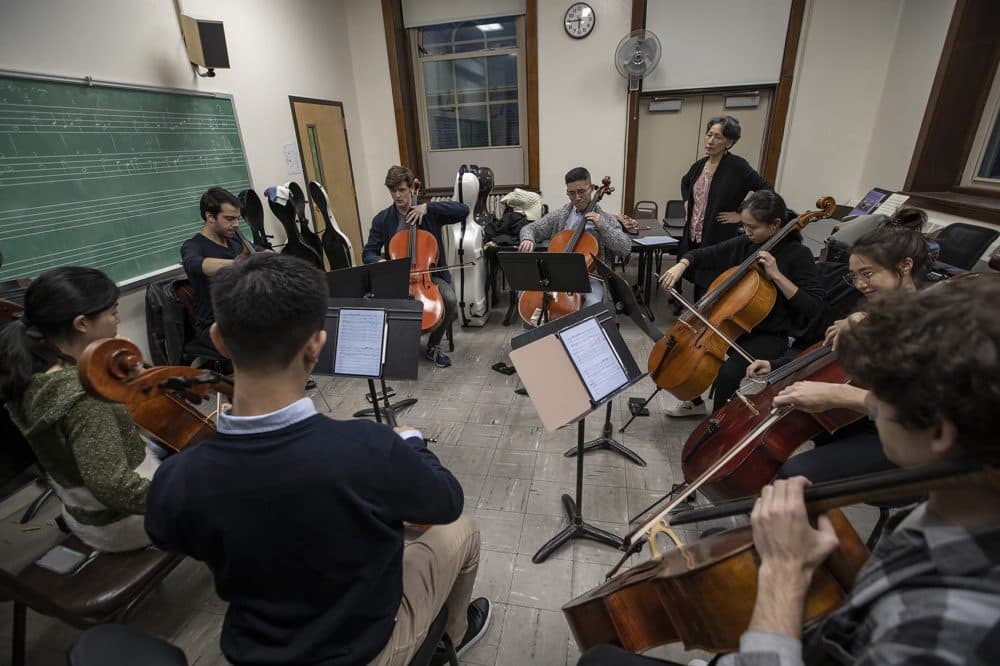 The cello orchestra includes octets from area music schools including the NEC, Longy and Boston University. Cellist Lluís Claret will be there too. And he suspects his godfather, who died at age 96 in 1973, would be pleased.
The Casals party continues in December when Boston youth ensembles including the Boston City-Wide String Orchestra, will play arrangements of Puerto Rican songs, commissioned for the occasion, at the Roxbury and Dorcester string fests.