Celebrate National Friendship Day with a pair of musical mates, Haydn and Mozart.
BFFs: Wolfgang Amadeus Mozart and Franz Joseph Haydn
On this week's episode of Music in the Making, we're celebrating National Friendship Day, with music by a pair of composer compatriots, Franz Joseph Haydn and Wolfgang Amadeus Mozart.
Franz Joseph Haydn: Symphony No 73 in D Major, "La Chasse"
6/28/2007
Texas Music Festival Chamber Orchestra; Rista Savic, conductor
Moores Opera House
Haydn and Mozart first met in Vienna, in the early 1780s. Both acknowledged the musical influence of the other, and expressed admiration for one other. Of his friend, Hadyn wrote, "Scarcely any man can brook comparison with the great Mozart…If I could only impress on the soul of every friend of music…how inimitable are Mozart's works, how profound, how musically intelligent, how extraordinarily sensitive! Why then the nations would vie with each other to possess such a jewel." Haydn's Symphony No. 73, subtitled, "La Chasse" due to the horn calls heard in the finale, was written around the same time that this burgeoning new friendship was developing.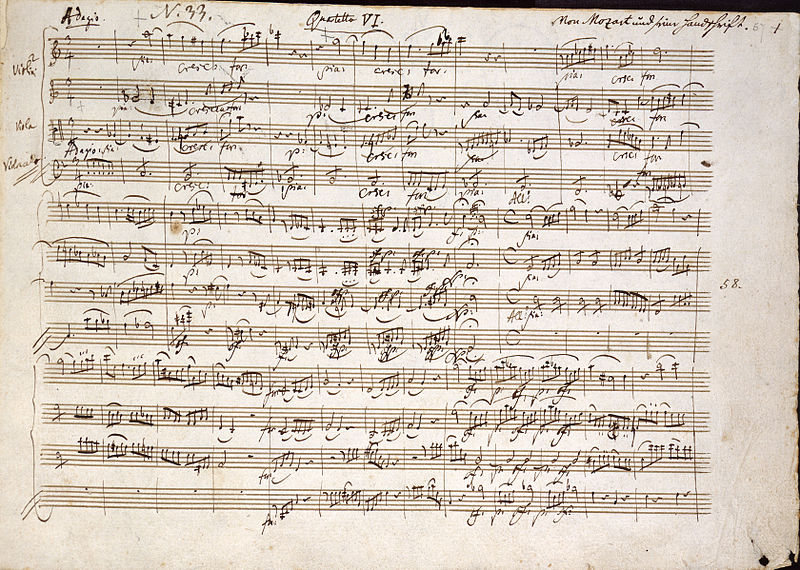 Wolfgang Amadeus Mozart: String Quartet No. 19 in C, "Dissonance"
March 11, 2004
Tomatz Graduate String Quartet: Chadvar Parashkevov and Shih-ting Huang, violin; Yuko Wtanabe, viola; Shino Hayashi, cello
Moores Opera House
Wolfgang Amadeus Mozart was also affected by his relationship with Haydn. A biography based on information provided by Mozart's widow and other close friends attests that Mozart viewed Haydn as a teacher. Mozart was particularly inspired by Haydn's string quartets, and dedicated a set of six to his mentor. In the dedication, Mozart poetically writes, "A father, having resolved to send his sons into the great world, finds it advisable to entrust them to the protection and guidance of a highly celebrated man, the more so since this man, by a stroke of luck, is his best friend. This, your approval, encourages me more than anything else, and thus I entrust them to your care, and hope that they are not wholly unworthy of your favor. – Do but receive them kindly, and be their father, guide, and friend!"