Throughout the history of orchestral music there are few composers who have left more of a mark on the landscape of musical history.
Born: 1732, Rohrau, Austria
Died: 1809, Vienna, Austria
Contemporaries: Johann Christian Bach, Wolfgang Amadeus Mozart, Ludwig van Beethoven
Best known for: Symphonies Nos 44, 'Mourning'; 45, 'Farewell'; 82, 'The Bear'; 92, 'Oxford'; 94, 'Surprise'; 101, 'The Clock'; and 104, 'London'. Trumpet Concerto; the oratorio The Creation; String Quartets Op 64 No 5, 'The Lark' and Op 76 No 3 'Emperor'.
Who was Joseph Haydn?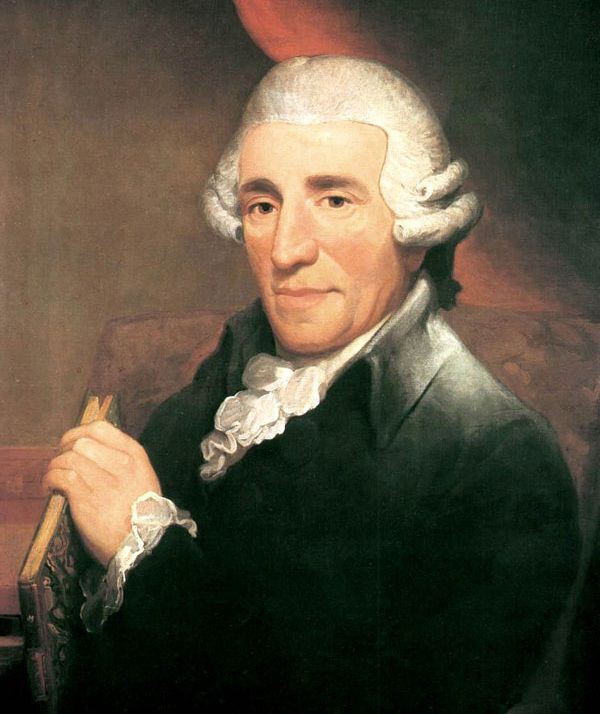 Joseph Haydn was the oldest and longest-lived of the four great composers of the so-called 'First Viennese School'. Born at a time when the Baroque masters J S Bach and George Frideric Handel were at the height of their fame, he outlived his friend Wolfgang Amadeus Mozart by 18 years, and saw his former pupil Ludwig van Beethoven well established in his own career. A modest and unassuming man with a pithy sense of humour, Haydn – known both as the 'Father of the Symphony' and the 'Father of the String Quartet' – shaped and consolidated the emerging Classical musical forms of the symphony, concerto, string quartet and piano sonata. Mozart, Beethoven and Franz Schubert all owed an incalculable debt to their genial, hard-working predecessor.
Haydn's life spanned a period of great social change. He was one of the last major musicians who worked almost exclusively for a single aristocratic patron – in his case, the princely Hungarian Esterházy family, whose main residence was the castle of Eisenstadt on the Austrian-Hungarian border. Haydn's employers treated him fairly, but in their eyes he was no better than a servant, a position he came to resent. His life-long desire for freedom was only granted towards the end of his long career, when he was effectively pensioned off and was able to travel and enjoy his spreading European reputation.
I always loved the string quartets and piano sonatas. And once I started conducting the symphonies … I realised they're like operas, so theatrical!' – Barbara Hannigan, conductor and soprano
His Musical Career
Haydn was one of twelve children born to the village wheelwright in Rohrau. His musical aptitude was spotted early, and between the ages of eight and 16 he was a choirboy at St Stephen's Cathedral in Vienna. After leaving the choir-school he eked out a living in Vienna as a jobbing musician. His major breakthrough came in 1761, when he was taken on at Eisenstadt first by Prince Paul Anton Esterházy, and then by his brother, Prince Nikolaus, for whom he turned out a constant stream of music.
In 1764 Nikolaus had a magnificent new summer palace built near Lake Neusiedler. Eszterháza had over 100 lavishly-decorated guest rooms, an art gallery, a concert hall, a ballroom, and a 400-seat theatre, for which Haydn wrote some 25 operas. While Haydn (who was unhappily married and mostly lived apart from his wife) appreciated the enforced isolation of Eszterháza, where there was no one to bother him, and he was 'forced to become original', the other court musicians, separated from their families, hated it. Haydn's witty 'Farewell' Symphony of November 1772, in which one by one the musicians left the stage, packing up their instruments and blowing out their candles, was designed as a heavy hint to the Prince that the summer season was over and it was time to tear himself away from his fairy-tale palace and return to Vienna.
In 1779 Haydn negotiated a new contract with his employer which allowed him to compose for other patrons, and to get his works published. The success of six new symphonies (Nos 82 to 88) written in the mid-1780s helped to consolidate Haydn's growing fame abroad. After his employer died in 1790, he was free to travel for the first time. He was persuaded to visit London, where he found himself feted by the court and high society. He was invited to stay with the Prince of Wales, went to the races at Ascot, and visited the famous astronomer William Herschel at his observatory in Slough. In July 1791 Oxford University honoured him with the degree of Doctor of Music, for which he submitted his Symphony No 92, known as the 'Oxford'. Haydn made a further trip to England in 1794-95, but although it was successful and lucrative, he resisted King George III's invitation to stay permanently. His last twelve symphonies are known as the 'London' symphonies. The last, No 104, is itself known as the 'London'.
He returned to Vienna as music director to a new Esterházy prince, Nikolaus II, who, in contrast to his predecessors, only required sacred music for his newly austere court. Between 1796 and 1802 Haydn produced six masses and the two oratorios The Creation and The Seasons. The increasingly frail composer last appeared in public at a performance of The Creation at Vienna University in honour of his 76th birthday, and died at the end of May 1809. He is buried in the chapel at Eisenstadt.
Sir Simon Rattle on Joseph Haydn
Well-Known Works
The slow movement of the 'Surprise' Symphony, No 94, starts off with an innocent little tune, played quietly, that suddenly ends with a loud crash. The story goes that Haydn was annoyed that members of the audience tended to fall asleep during performances, and thought he'd wake them up! The Cello Concerto in C major and the brilliant Trumpet Concerto have become very popular, while the tune of the slow movement from the String Quartet Op 76 No 3 (known as the 'Emperor' Quartet) became the national anthem of first Austria, and then Germany – in England it was set as the hymn 'Glorious Things of Thee are Spoken'. The Creation contains some of Haydn's loveliest arias and most stirring choruses, such as 'The Heavens are Telling', while his depiction of Chaos, when the earth begins to emerge from darkness, is an extraordinary piece of musical tone-painting, possibly inspired by his view of the universe as seen through Herschel's 'Great 40-Foot Telescope'.
The principle feeling I get about Haydn is one of glee, he enjoys his talent so tremendously and we just go along with it.' – Sir Colin Davis, former Principal Conductor and President of the LSO
Influences
Haydn claimed that he owed a great deal to J S Bach's son Carl Philipp Emanuel, a brilliant keyboard player who worked at the Prussian court of Frederick the Great and a supreme exponent of the Sturm und Drang style reflected in Haydn's middle-period symphonies. Haydn's 53 piano sonatas owe much to Emanuel Bach's pioneering example.
Haydn was very fond of Mozart, who described 'Papa Haydn' as his best friend. The two played quartets together when Haydn was in Vienna, and Mozart dedicated his own Op 10 set of six string quartets to Haydn as an act of homage to the man who had done so much to develop the form. Mozart's reciprocal influence on Haydn's later work, especially the 'London' symphonies, is evident in their imaginative instrumentation, particularly the enhanced role given to woodwind instruments.
Although Haydn spent much of his working life in relative isolation, he was not immune from current political events. His Paris Symphony No 85 ('La Reine') was a favourite of the Austrian-born duchess who became Queen Marie-Antoinette, but lost her head during the horrors of the French Revolution;  while both the 'Mass in Time of War', and the 'Nelson' Mass reflect the political turmoil of the Napoleonic Wars.
Legacy
Haydn's seminal work in the fields of symphony, string quartet, piano trio and piano sonata had a profound and long-lasting influence on his successors, especially Beethoven (who briefly studied with Haydn in the early 1790s) and Schubert. His music, loved for its elegant style and earthy humour, is still a staple of concert programmes. Extracts from some of Haydn's works can be heard on film and TV soundtracks: the 'Farewell' Symphony in Queen Charlotte: A Bridgerton Story (2023); the 'Emperor' Quartet in the 2016 film Allied; and the Symphony No 103 in the 2012 film Man on a Ledge.