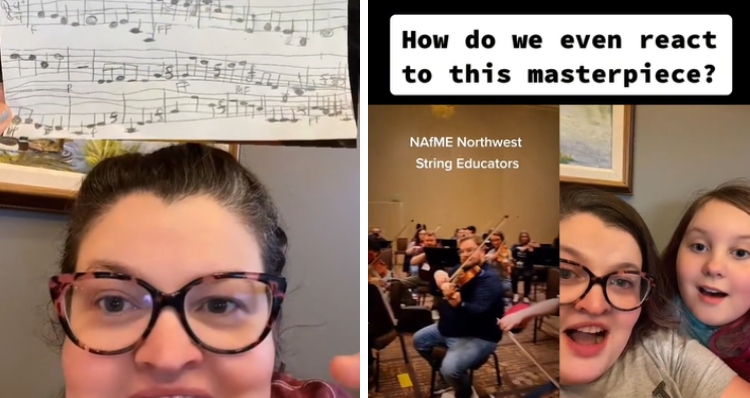 Every parent thinks their children are smart and talented, but it's still nice to have that fact verified by impartial observers.

Mimi Wallace of Pennsylvania is an avid TikTok user. Not long ago, she stumbled upon a handwritten musical composition penned by her 10-year-old daughter, Olive, who plays violin and clarinet. Olive loves to write music for fun, and Mimi was curious to hear what the song sounded like. She decided to ask for help on TikTok. Six million views later, this mom and daughter got way more than they bargained for!
1. "So my 10-year-old daughter wrote this," Mimi says in the 10-second video. "Could somebody play this? I need to know – I need to know if it's any good or if it makes any sense."
2. A music teacher named Lisa was among the first to take a stab at it.
"This is so fun – I swear that I see a couple sharps here indicating a key signature, so I assumed it's in D Major," she said. "Mine is going to sound a little different. I hope she likes it!"
3. A pianist named Jennie A. also performed the piece. The look on Olive's face when she hears it makes our hearts sing!
4. The responses were a mixture of professionals and amateurs. Here are Olive and Mimi listening to Dr. Christopher T. F. Hanson, an assistant professor of music and the director of music education and orchestral activities at Seattle Pacific University.
"I hope we did justice to your beautiful melody!" the conductor wrote as a caption. "On behalf of all of the string teachers at the NAfME Northwest Conference, keep making music!"
5. Some musicians just wanted to offer words of encouragement to the young composer.
Michael Almich told her, "This is the power that you have, to make music, to change hearts, to change lives, to make a difference in this world. You watch and you see what this one melody does. It's gonna be awesome."
6. As a big fan of pugs, Mimi especially loved this video by violinist Natalie Kimbro.
7. Julie the Foodie tried out the music on her harp, stating she's "always happy to help budding composers."
8. This artist chose to interpret the work using a clarinet, and it's surprisingly lovely.
9. Another musician chose to play it on his bass guitar.
10. Mimi was overwhelmed by the sheer number and quality of the work. "This is what music does," she wrote in a follow up video. "It connects us."
11. Olive feels very encouraged by all of the musicians who liked her work. She says "Keep classical weird," (number 4 on this list) was her favorite.
Olive has now named her composition, "For Greatness We Bring." She's hoping someone will attempt to play it on one unique instrument: the bagpipes! Who's up for the challenge?
Share this story to encourage young artists like Olive.