Szymon Goldberg was one of the twentieth century's great all-around violinists. Born in the same decade as famed soloists Jascha Heifetz, Nathan Milstein, and David Oistrakh, Goldberg had a different kind of career. He was an elite concertmaster, a top-flight chamber musician, a superlative sonata player—and yes, an incredible concerto player—but above all, a model of musical commitment, thoughtfulness, and refinement. A soft-spoken, modest man, Goldberg eschewed extravagance and obviousness in his playing. But for the attentive listener, his art was—and remains—full of energy, drama, and sheer brilliance of musical conception. Goldberg was also a victim of some of the century's darkest historical events. But this does not seem to have ever affected his sunny musical disposition.
Born in 1909 in Włocławek, Poland, he spent his early childhood in Warsaw, where he studied with Mieczysław Michałowicz. When Szymon was eight, his family moved to Berlin so that he could continue studies with Carl Flesch. Flesch named Goldberg one of his favorite pupils, whose playing represented a rare balance of technique and interpretation. Indeed, Goldberg's incredible facility and warm tone, with its often-fast vibrato, were always made to serve whatever level of energy and momentum the music demanded. Goldberg could drive and ride the musical flow as few can, keeping a tight rein, or letting things gallop thrillingly along.
Musically developed by adolescence, Szymon made a debut with the Berlin Philharmonic at fifteen, performing concertos of Bach, Paganini, and Joachim at one go. At sixteen, he was appointed concertmaster of the Dresden Philharmonic under Erich Kleiber, and at twenty, became concertmaster of the Berlin Philharmonic under Fürtwangler. Meanwhile, he played in a string trio with violist-composer Paul Hindemith and legendary cellist Emanuel Feuermann.
After only five years with Berlin, however, with the Nazi rise to power, his position became untenable. "Being Jewish and Polish," he wrote, "I was quite aware that my expectations in Germany under Hitler could not be good, and I took the initiative to dissolve my contract with the Berlin Philharmonic Orchestra myself, so as not to wait for my dismissal and for the internment of my wife and me." In order to receive a travel visa, he was forced to claim to the press that he was resigning in order to pursue a solo career. In the ensuing years, Goldberg toured internationally with pianist Lili Kraus. But in 1943, while performing in Java, the two, with their families, were interned by the occupying Japanese, operating under the influence of their Nazi allies. Goldberg was separated from his wife, and deprived of his instruments and collection of music. In prison camp, he organized an orchestra equipped with inferior, barely playable instruments. Later, deprived of any instrument, he continued to practice in the midst of forced labor, using a wooden stick in place of a violin. At war's end, he was reunited with his wife, and his Stradivari, but not with his bows or music.
Goldberg asked the Berlin Philharmonic for his job back, but was refused, and never played in Germany again. However, he quickly regained his prominence practically everywhere else, performing at the Casals Festival, forming the Festival Piano Quartet at Aspen with William Primrose, Nikolai Graudan, and Victor Babin, conducting the Netherlands Chamber Orchestra and New Japan Philharmonic, and in the 1970s, recording the complete sonatas of Mozart with pianist Radu Lupu.
These sonatas were among Goldberg's specialties. In his twenties, he recorded seven of them with Kraus, including an incredible Sonata in E-flat major, K. 481. The recordings with Lupu, beginning with a delightful G major Sonata, K. 301, came in his sixties. Both sets are required listening. With Kraus, the tempi are faster, the drama a little higher, the vibrato more romantic. The collaborations with Lupu tend toward more expansiveness, elegance, and understatement.
Recordings of sonatas by other composers reveal more of Goldberg's gifts. Beethoven's Op. 12, No. 2, in A major with Kraus features an astonishingly nimble opening movement, and a riveting, dramatic Andante. In the Brahms A major, playing with the seemingly ubiquitous pianist Artur Balsam, Goldberg is at his warmest and most leisurely, gracing Brahms' melodies with lovely, expressive position changes. In the Debussy, again with Balsam, he dares to take tempo transitions to the extreme, diverting the musical flow into one new course after another.
Goldberg was associated nearly as closely with Bach's music as with Mozart's. His recording of the E-major Concerto, in which he plays with and conducts the Netherlands Chamber Orchestra, combines discipline and warmth, while displaying his chamber-music mindset. Another Goldberg favorite was the Haydn Concerto, joyous and imaginative in a recording with Süsskind and the Philharmonia. The Mendelssohn (van Beinum and the Concertgebouw) is another concerto that benefits from Goldberg's nimbleness, healthy musicality, and gorgeous tone. And Goldberg's ease of execution and unstilted expressiveness make a surprisingly good match with the Berg Concerto (Steinberg and Pittsburgh).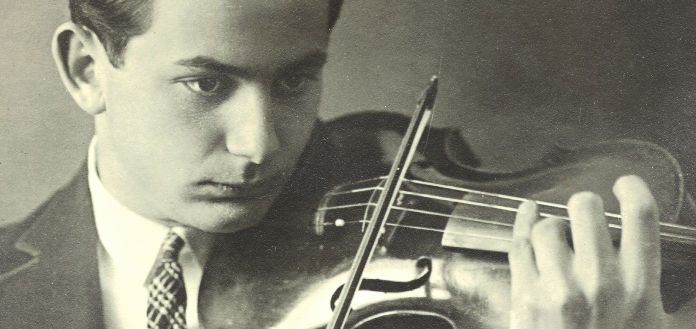 Two other can't-miss Goldberg recordings: with Hindemith and Feuermann, the violinist recorded an authoritative Hindemith String Trio No. 2. And the Dvořák-Kreisler Slavonic Dance in E minor, for most violinists a platform to show off their juiciest slides and most bewitching vibrato, is for Goldberg an opportunity to go on a miniature but enthralling musical journey.
Please note the above are affiliate links, meaning Strings will earn a small commission (at no cost to you) when you click through and make a purchase. Thanks for your support!