Lisa Simone doesn't sugarcoat her relationship with her mother, the legendary singer-songwriter and pianist Nina Simone. "On my 16th birthday, she sent me a card and it said: 'I curse the day you were born.' I was with my aunt at the time. I didn't react. It was my aunt that got angry. I was like: 'Why are you angry? This is normal.'" Lisa, also a singer-songwriter and a Broadway star, has spent a lifetime making sense of her mother.
Sometimes she despised the woman who bullied, rubbished, physically abused and neglected her. At other times she adored the woman who could be fun, loving and nurturing. And she was always in awe of the inspirational artist and activist who represented the revolutionary spirit of the 1960s like nobody else. Now, 90 years after Nina was born and 20 years since she died, Lisa regards herself as keeper of the flame. Next week, she is in London to play a tribute concert, singing songs made famous by her mother.
It is hard to overstate Nina Simone's influence. She wrote one of the great protest songs (Mississippi Goddam, about the 1963 murder of the civil rights activist Medgar Evers), one of the great celebratory songs (To Be Young, Gifted and Black, written in memory of her friend, the playwright Lorraine Hansberry, with lyrics by Weldon Irvine) and one of the great narrative songs (Four Women). Her interpretations of classics such as Ain't Got No/I've Got Life, My Baby Just Cares For Me, Mr Bojangles and Stars are so definitive we think of them as the originals. Her music segued from ecstasy to despair – just as she did.
Nina, born Eunice Kathleen Waymon in North Carolina, was the most uncompromising of the celebrity civil rights activists. In the wonderful film Summer of Soul, about the 1969 Harlem festival that became known as the Black Woodstock, we see her inciting the crowd to violent revolution. Her radicalism, unpredictability and mental health (she was diagnosed as bipolar) cost her so much commercially. And at one point it almost cost her Lisa.
She personified all that was possible at the time for a brilliant Black woman – international fame (and infamy) in the mainstream and heady influence in the counterculture. She also personified what was impossible at the time for a brilliant Black woman. Nina was a child prodigy, earning a one-year scholarship to the Juilliard School in New York City that should have led to a full scholarship at the Curtis Institute of Music in Philadelphia. She wanted to be the first African American classical concert pianist, not a popular music star. But the Curtis Institute rejected her, destroying her dream. Nina, who became known as the high priestess of soul, believed she was turned down because she was Black. Two days before her death, it was announced that the Curtis Institute would award her an honorary degree.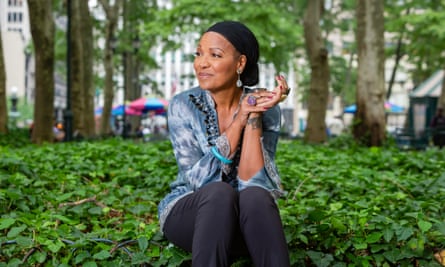 Lisa is speaking from Arizona where she lives with her husband. Despite the bleakness of her story, she is radiant. She was the only child of Nina and her second husband, Andy Stroud, a former police officer who became her manager, and her happiest memories are of playing in Nina's bedroom as a young child. "My mother had a three-way mirror, so if I angled the sides I could see about 10 of me on each side, and she let me put on her wigs and high heels. We were always playing music, whether it was hers or Miriam Makeba or Otis Redding, so I'd sing and dance with my selves in that mirror in her bedroom. It was heaven for a little girl."
Often Lisa and Nina would sit at the piano, Lisa singing, her mother playing. "Harmonies came very easily to me, and I always sang and danced. Mommy told me she never considered herself a singer. I looked at her like she had two heads. I thought: tell that to the millions of fans who love you." Nina encouraged her in so many ways. "She had roots, she was building a life, and life was calmer."
But the calm didn't last. With success and activism came pressures. "She paid a huge price to be the woman we revere." And so did Lisa. When she was eight, her parents separated. She moved with Nina to an affluent part of Manhattan, overlooking Central Park. Materially, they wanted for nothing. But her mother had changed. "She was angry." She had lost both her husband and manager and chaos ruled. "She was dealing with the pain that goes with a messy divorce, and she lost the business foundation she had relied on and that's a lot. You're just so raw."
Nina began to take her anger out on Lisa. She became violent. Lisa didn't know what had come over her. "I internalised a lot of things. I was very calm on the outside but on the inside I wasn't." Her mother would beg her to cry when she was beating her, but Lisa refused to give her the satisfaction. "She called me Robot. If you let Mommy know you were hurting, she would take advantage of that. I became numb to a lot of things."
Lisa asked herself what she had done wrong, and provided herself with the answer. "I think my biggest mistake was to grow up … As you begin to ripen, as girls do, that relationship with your mother can shift. And if your mother is not in a secure position herself, it's very difficult to watch your daughter start to look like a woman and not feel challenged, like there was a competition. That's how she felt, so that's how she treated me, as opposed to a young girl asking questions because she's curious."
Did she feel threatened by Lisa's beauty? "My mother was a very beautiful woman, outside and inside. Period. No matter what she went through, what she carried, how she exhibited it, she was beautiful. My dad was half Black and half white with smaller features, and I inherited those features. A lot of Mommy's unresolved issues with her features and how she was treated and what she was told as a child would come out on certain days when she was looking at me."
Did Nina want to be lighter skinned? "I never heard Mommy say she wanted to be lighter skinned. But in her book I Put A Spell On You, she wondered what life would have been like had she been born a white man. And if she had been born white, especially a white man, then her genius would have been celebrated and rewarded." And it wasn't? "Of course it wasn't. She had to fight for everything. And now that she's dead, she's more famous than she ever was when she was alive."
Nina faced trouble over unpaid taxes and in 1974 she left the US with Lisa for Liberia, then Europe, calling it a self-imposed exile. As Nina became increasingly unpredictable and violent, Lisa started to fear for her life. The more time she spent with her mother in Switzerland, the more she idealised her father back in America. Nina told Lisa that he didn't love her. "Finally, I said to her: 'I'm going to see Dad in New York and I'll prove to you that he loves me like I've been telling you all this time or I'm going to prove to myself that he doesn't like you've been telling me.'"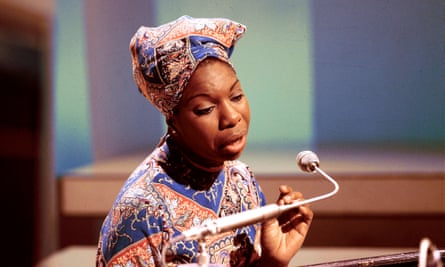 After three days in New York, her father asked when she was returning to Switzerland. Lisa was desperate. "I felt if I went back to Switzerland I wouldn't survive. He went out one evening with his girlfriend to the opera and I just felt everything come down on me. I was looking through the bathroom medicine cabinet for something I could take because I thought that would be the best option. I had pushed so many things down, then this avalanche of emotion descended. I had allowed myself to feel and I didn't want to feel. In that moment I just wanted everything to stop."
Did she take the pills? "No, I had the presence of mind to phone my mother's designer, Carolee [Prince], who was more like a family friend. She talked me out of it." Lisa told her father what was happening at home, and spent a year with him in New York. From there she went to live with her aunt upstate.
From the age of 14 to 18, she didn't see her mother. "I could count on two hands the amount of times we spoke in those years, and when we did speak on the phone she wasn't very nice. There was a lot of putting me down and putting other people down in an attempt to lift herself up. And she could curse, honey!" Now she's laughing. "It sounded like iambic pentameter, baby, in terms of the poetry, but she could use some vernacular!"
Nina surprised Lisa by turning up at her graduation. Lisa had been a top student, but not surprisingly her marks had slipped and she didn't make the grades for university. She told Nina she was joining the airforce. Was that her way of rebelling? "I didn't do it to spite her, but the more I saw her discomfort the more I enjoyed the moment, and the more I talked about it the more it was like she was swallowing broken glass."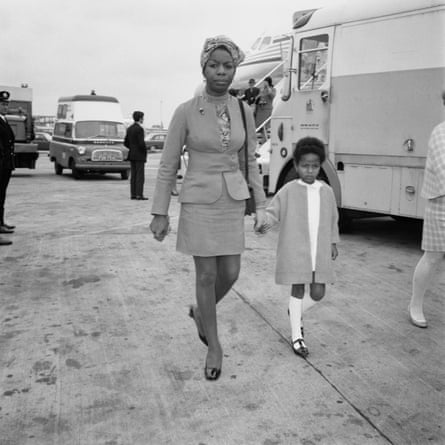 Lisa says she was her own worst enemy. By the time she was 20 she was married and the mother of her first child (she now has three adult children, whom she adores). "I wasn't ready to be a parent, and I didn't even allow myself a chance to be a young adult because I went from being under the thumb of other people to being under the thumb of the military to having the responsibility of children. I spent 10 years sleepwalking through the military." She finally quit to become a professional singer. When she told her mother, Nina responded with an anguished yelp of "Why?". Lisa found success on Broadway in the musicals Rent, The Lion King, Aida and Les Misérables.
She re-established regular contact with Nina, who had moved to France then Holland, and was heavily medicated for her bipolar disorder and making a living by playing small jazz bars. Nina had attempted suicide, shot (and missed) a record producer she claimed owed her royalties and shot a teenager in the leg with a pellet gun because he had disturbed her music practice. But Lisa, now in her 30s, was no longer scared of her. She was tired of being Nina's punchbag, and was determined to change the dynamics of their relationship.
"All these years I'd been trying to live in her world on her terms and I made a decision that it was now time for her to live in mine. Because in my world everyone feels appreciated. So I put her into what I considered a training programme on how to love me."
This involved teaching Nina that it wasn't all right to be abusive or to bring Lisa down. "If I called her and she was being the way she'd always been, I would simply not continue the conversation. I'd say, call me back when you feel better. And tell her to be nice to family members, otherwise people are not going to want you to be in the family. All these years I'd been absorbing things like a sponge and I'd never told her: 'When you step on my foot, it hurts. Please don't do that.'"
The training programme lasted 10 years, until Nina died, and transformed their relationship. Nina watched Lisa on Broadway and roared her approval. They played music together again – Lisa singing, Nina on the piano. "She was like: 'OK what d'you want to hear?' And I said all the songs I wanted her to play. She was so touched that I knew them. She said: 'All these years when we were at odds I thought that you didn't play my music.' And I looked at her and said: 'Mommy, that is the part of you I always had with me. And I played them over and over and over again. Of course I know those songs.'"
Nina invited her to open for her at the Royal Albert Hall in 1998. She remained a diva, refusing to watch Lisa's performance and banning her daughter from watching her, which Lisa ignored. But it still made for a great memory.
Despite their rapprochement, Lisa never saw as much of her mother as she would have liked. But now it was because Lisa was too busy – raising her children, performing on Broadway and making albums with the acid jazz band Liquid Gold. Nina suffered from breast cancer and died in 2003 at home in the seaside resort of Carry-le-Rouet, southern France.
Lisa was devastated. "When she died we were on very good terms, but there was still so much unresolved stuff in my heart. I was angry with her for a long time for dying before my vision and fantasy of what our relationship could be was real." Lisa marked her death by adopting the singular stage name Simone. Why did she lose the Lisa? "When Nina died, Lisa died too."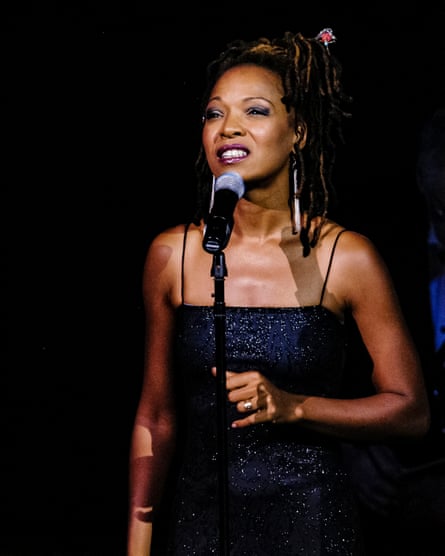 Five years after Nina's death, Lisa made her first solo album. She had hoped to record her own songs, but the executives insisted she make a big-band tribute album to her mother. "I was not thrilled," she says. But eventually she agreed. "I was still grieving my mother, so I was afraid when I got into the singing booth. But I just loved it. It was so cathartic. And I've been enjoying singing her ever since." The album Simone on Simone starts with Nina introducing her and ends with her saying: "That's my baby."
Ten years after Nina's death, Lisa moved into her old house in France to experience the life they never shared there. She wrote songs and recorded three albums, living there for eight years. Eventually, she says, she felt healed and reclaimed the name Lisa. Professionally, she is now Lisa Simone, but she is keen to stress the differences with her mother. Take politics, for example. "I don't mix my artistry with politics. I keep them separate. My music is for humanity."
Does she think Nina respected her in the end? She smiles. Yes, she says. "My husband was next to her every time she saw me in a Broadway show and she was one of my biggest fans." Lisa tells me about the greatest endorsement she gave her. "I once said to her: 'I'm going to sweep the awards, Mommy, watch, I have that much talent.' And a few years after that I wasn't feeling particularly talented, and she said to me something I'll never forget. I'll try not to get emotional." But it's too late – the tears are already falling. "She said: 'I look forward to seeing you sweep the awards and walk down that red carpet, my baby girl, because you are that talented, and I believe in you.' That meant the world to me and it still does."
For so much of her life, Lisa struggled with their relationship, but finally she is at peace with Nina. "I'm the only person on this entire planet who calls Nina Simone, Mommy. And I do so with joy and with pride – and with a sense of knowing who I am, where I come from and how I carry on this legacy today."