Jacob Velasquez, 5, was reading sheet music a year ago
The pint-sized prodigy can learn an entire sonata in one afternoon
His photographic memory enables him to play without needing to even look away from the piano keys
Get ready for one of the most amazing things you're ever going to see.
Five-year-old Jacob Velasquez, of Pembroke Pines, FL., is already playing Beethoven and Mozart, and can learn entire sonatas in one afternoon. Despite playing the piano for just over a year, the pint-sized prodigy is already winning accolades.
Mr Velasquez has even been admitted to the National Musician's Guild, no small feat.
Prodigy: Jacob Velasquez plays entire sonatas without needing to look at sheet music
It all began one afternoon about a year ago. Mr Velasquez's mother Tina was in the kitchen and heard music coming from the living room, she thought it was the boy's father.
'Willie was at work and I was in the kitchen and I hear the song Willie was playing the night before,' she told Local 10, adding 'I came in here and said, 'Jacob, oh my gosh, that's you.'
Soon after able to read music, Mr Velasquez learned Beethoven's Sonata in only three weeks.
The youngster's photographic memory enables him to look at sheet music only once and he can memorize a song, according to the station.
Remarkable: Mr Velasquez learns an entire sonata in one afternoon, it takes others a month
The whiz kid's parents soon decided to have him audition for the National Musician's Guild, they told the station. Not an easy task, many adults are intimidated, but not Jacob.
'"He had to learn 10 classical pieces all by memory,' father Willie Velasquez told the station.
The wunderkind nailed it.
'He did amazing, actually, he exceeded the expectations,' the proud father added.
When Jacob Velazquez's parents first saw their son play the piano three years ago and wanted to get him lessons, no teacher would take him.
The problem, according to those teachers, was that Jacob was only 4 at the time.
Why does he like to play piano?: 'Because I learn all these songs!'
Mr Velasquez's proficiency has him learning entire songs in one class – it takes others a month to learn, according to piano teacher Jaffird Sierra.
His feet too short to reach the pedals, Mr Velasquez has to adjust his playing to suit his size limitations.
'I think he has it in his mind the whole knowledge but he has too short of hands and he is too small and he wants to play,' Ms Sierra told the station, adding 'he knows, but he cannot do that.'
Unlike many prodigies, Mr Velasquez enjoys his craft. When asked why, he said 'Because I learn all these songs!'
"Most teachers said he had to be at least five or, ideally, seven," Jacob's mom, Tina Velazquez, told ABC News. "We finally found a teacher who agreed and she would give him a song and he would learn it instantly in one lesson while the other kids would take a month."
Watch Jacob Play Live on 'GMA'
Three years later, at age 7, Jacob is putting the finishing touches on his first album, "Jacob," that will be released in early 2015.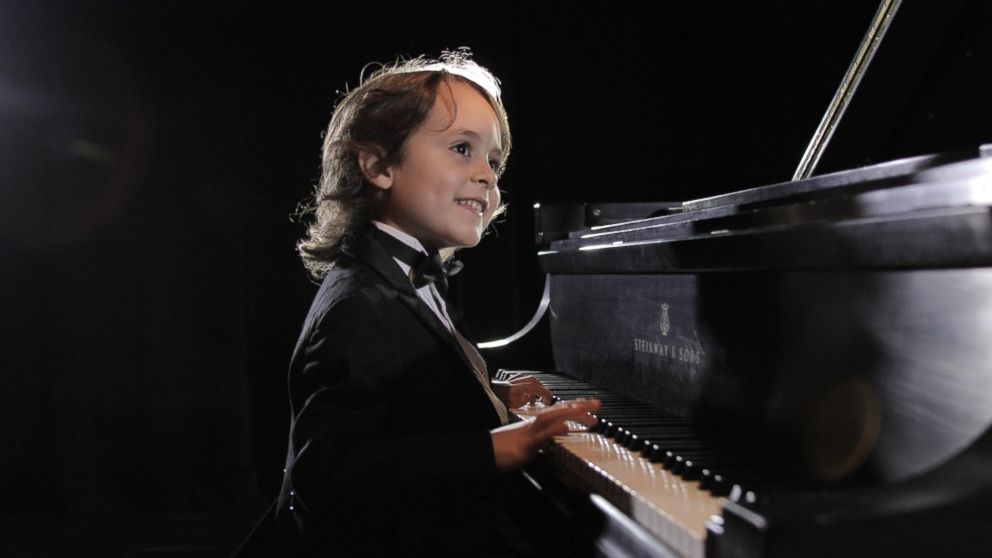 He already has two songs out on iTunes and last year shot a music video for the album, featuring a cameo by his kindergarten classmates.
"He pretty much did the whole album and video last year, while he was six," Velazquez said of her now-first grade son, who practices the piano just 20 minutes per day.
Jacob learned the piano on his own by watching his dad, Willie Velazquez, play in the family's Pembroke Pines, Fla., home after work.
"One morning my husband was at work and I heard the songs that my husband was playing the night before and I went in and it was Jacob," Tina Velazquez recalled. "I said, 'How did you do that?, and he said, 'I watched daddy.'"
At the same time that Jacob demonstrated his piano skill, the family received the devastating news that Jacob had autism.
"We really wondered what his future was," said Willie. "We finally decided to change our mindset and think of his many capabilities instead of his disability and we just feel so blessed to be where we are right now."
Jacob spent the past year working with Miami-based producer Hal Batt, who has worked with music stars like Shakira and Julio Iglesias, on his album.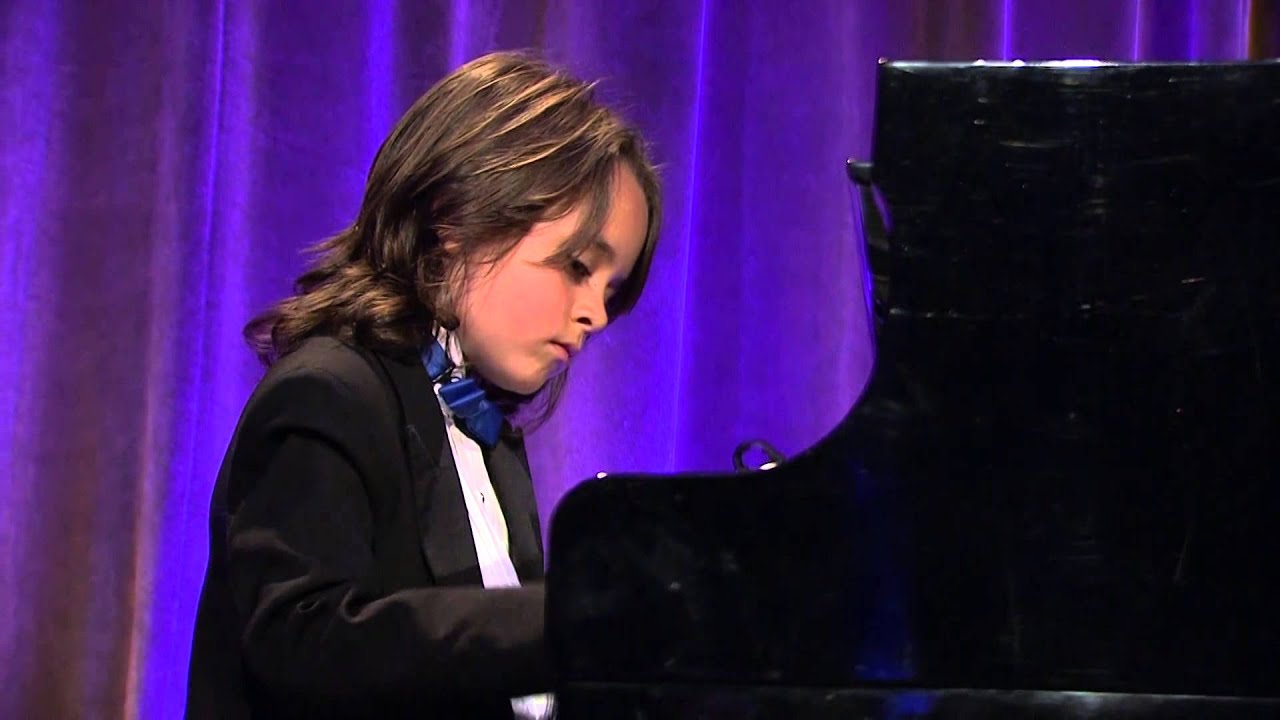 "He loves the recording studio," Tina said. "It's like his playground."
The album will blend the classical music Jacob knows as a trained piano player with the electronic dance music that is more popular among kids.
"The album itself is energetic and fun and we just hope that many will enjoy it as much as Jacob has enjoyed making it," Willie said. "We're really happy that we can combine these two genres to introduce young people to classical music and make it fun."
Jacob appeared on "Good Morning America" last year and has Christmas recitals and more local events scheduled in his near future. His parents say they are leaving it up to him where his piano-playing takes him after his album is released.
"As long as Jacob continues to have fun, we'll do whatever we can to support him," Willie said.